Catching the suspect who has been preying on women walking alone in North Park would be a reward in itself, but San Diego Crime Stoppers is adding incentive with a $10,000 reward.
Crime Stoppers is partnering with Mark Arabo, president of the Neighborhood Market Association, to offer the bounty for information leading to the arrest of the suspect they call the "North Park creep."
The unknown man -- or men -- has been tied to six attacks since June. In each case, at least one suspect targets a woman walking alone, jumps her from behind, knocks her to the ground and takes off.
The seemingly random series has led to concerned community meetings, increased police patrols and even a band of masked would-be vigilantes. Still, no suspect has been caught.
"Our city has a moral obligation to the public to ensure their safety and security," said Arabo in a statement. "We must not spare any expense to protect our city's women. The least we can guarantee them is their ability to walk our streets safely."
He is also calling upon the San Diego City Council to match the $10,000 pledge.
On Friday night, police released pictures of a person of interest who was seen near the latest attack on Aug. 28.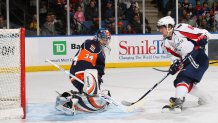 In that case, the victim was walking alone in an alley near Lincoln Avenue and Idaho Street around 11:30 p.m. when she was knocked to the ground and punched in the face. She lost consciousness before she was taken to the hospital.
The first attack in the series was reported on June 11, when a woman was thrown to the ground by an attacker on 33rd Street, according to the SDPD.
On June 17, police say two suspects were involved in an attack in the 3200 block of Meade Avenue. Four days later, a victim told police two men again attempted to assault her and pull off her clothes on Lincoln Avenue.
A woman was attacked from behind and knocked unconscious on June 24 while walking along Lincoln Avenue near Oregon Street.
On July 20, another woman was knocked unconscious while walking near Lincoln Avenue and Kansas Street around 1:20 a.m.