A father who suffered some sort of medical emergency while driving his son to school Thursday morning plowed his SUV into a house in Talmadge, narrowly missing a dog home alone inside.
San Diego Fire-Rescue Department firefighters said the father crashed his black SUV into a single-story home along Monroe Avenue, near 52nd Street and Dawson Avenue, at around 7:20 a.m.
The couple who lives at the home was at work at the time of the crash. Their family pet, a dog named Shadow, was inside.
The SUV had slammed through a neighbor's wooden fence and crossed a small alley between the homes before crashing into the home's porch and entrance. Pieces of wood and debris were scattered about. The SUV came to a halt wedged in the porch area.
Because the driver was experiencing medical issues, he was unable to immediately get himself out of the SUV. SDFD firefighters were eventually able to remove him from the wreckage. He suffered minor injuries and was taken to a nearby hospital.
The boy inside the SUV was unharmed. He was walking around with his backpack on when his mother picked him up from the scene of the crash.
Neighbors told NBC 7 the collision was loud, akin to the noise of "an explosion."
"It sounded like a big explosion, maybe like a bomb going off," one neighbor recalled. "It was so loud."
Meanwhile, the landlord of the property called the residents to tell them about the accident. The woman who lives at the home, Sandra Puente, rushed home. She was worried sick about Shadow.
Puente told NBC 7 Shadow usually likes to wait by the front door for them to get home. She feared he had been hurt in the crash.
As a tow truck driver was pulling the wreck out of the home, Puente arrived, frantically running past officials, calling out Shadow's name.
Officials said Shadow was not hurt. He was barricaded in back room of the home and getting to him, past the nails and debris, was not easy.
Eventually, a police officer found a leash, clipped it to Shadow's collar and walked him out a back gate where Puente was waiting for him.
Sobbing, she rushed to her dog and hugged him.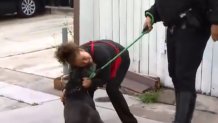 "Okay, everything is good, Shadow, everything is good," Puente told her pooch.
Shadow was a little dusty and, just like his owner, still a little shaky, too.
Puente was grateful to be reunited with her pet.
"My dog is very smart," she said, fighting back tears.
The home on Monroe Avenue sustained heavy damage in the crash and a structural engineer was called to the scene to analyze the building.
As of 11 a.m., the home remained roped off as crew continued to clean up the scene.