Moka is not even one year old yet but the endangered Bengal tiger has had quite the story since being smuggled across the U.S.-Mexico border last summer.
His story will soon have a new chapter when he arrives at his new "forever home" -- at Lions, Tigers and Bears sanctuary in Alpine.
The tiger cub was estimated to be 6 weeks old when he was discovered by U.S. Customs and Border Protection (CBP) at the Otay Mesa Port of Entry. The then-unnamed cub was sitting on the passenger's seat floor of a car driven by a teenager on Aug. 23, 2017.
Tiger Cubs Bond at Safari Park
That same day, the U.S. Fish and Wildlife Service took custody of the cub and Moka was taken to the San Diego Zoo Safari Park, where he has been living during the trial for Perris, California, resident Luis Eudoro Valencia, 18.
The San Diego Zoo Safari Park said Moka, whose name means "chance," was growing quickly but needed to learn how to socialize with other tigers.
Cue Rakan.
The Sumatran tiger cub was nine weeks old when he was flown to San Diego from the Smithsonian National Zoo in Washington, D.C., where he was rejected by his mother.
A Closer Look at the SD Zoo Safari Park's 2 New Tiger Cubs
Rakan would "chuff"-- a friendly tiger greeting -- expressing an earnest desire to spend time with his mom. But she would not acknowledge him, said National Zoo officials.
As time went by, the chances of a successful reunion between the cub and his mom diminished. Their animal care staff decided to send the cub to the San Diego Zoo Safari Park.
The pair quickly formed a bond.
Over the next few months, the Moka and Rakan, whose name fittingly means "friend," had grown inseparable and were sharing a living space at Tull Family Tiger Trail where they could be greeted by visitors to the park.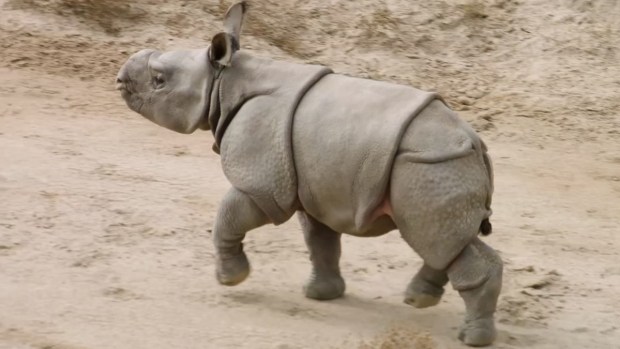 Cutest Critters: 1st Penguin Chicks Born at SD Zoo
Then, when he was about eight-months-old, Moka began showing signs of ill health, including intestinal adhesions that raised serious concerns for animal care experts, the Safari Park said.
Imaging studies showed Moka was suffering from malformations and hernia, which the Safari Park said were consistent with previous trauma or infection, possibly related to his care, or lack thereof, before he was rescued by authorities.
The Safari Park called in a specialist, and the emergency procedure was performed on the cub.
Moka's surgery was successful and the Bengal was able to recover under the observation of veterinarians with the Safari Park's Paul Harter Veterinary Clinic.
Smuggled Bengal Tiger Cub Undergoes Emergency Surgery: Safari Park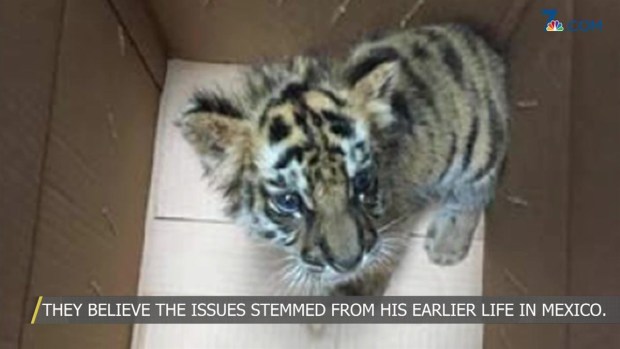 But it's time for Moka to be moved to his "forever home," the Safari Park announced on Facebook Wednesday.
In February, The teenager accused of smuggling Moka was sentenced to six months in prison and three years of supervised release.
Since the trial was over, U.S. Fish and Wildlife needed to decide where Moka would be cared for long-term.
The department decided on Lions, Tigers and Bears, a rescue and educational facility that sits on 93 acres in Alpine, California and provides a safe haven for exotic rescued animals, according to the Safari Park.
The facility has nine habitats, is home to 19 species and includes a medical care center. The public can visit Lions, Tigers & Bears - by appointment only – on certain days of the week.
Man Arrested At Border for Attempting to Smuggle Tiger Cub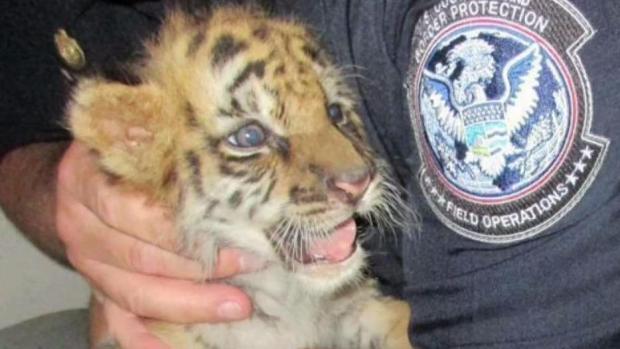 The sanctuary did not immediately respond to questions about when Moka would arrive at the facility of if guests would be allowed to visit the cub.
It was unclear when, or if, guests will be able to visit Moka at the facility.
The Safari Park, who had been caring for the tiger for about 10 months, sent Moka off with a touching tribute video Wednesday.
"We've all come to love #RescueCub and he'll certainly be missed, but we are so happy that he now has a forever home."