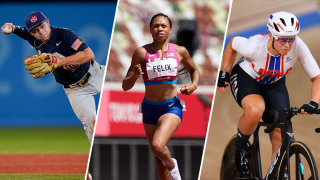 We're getting to the end of the Tokyo Olympics -- but not before the last of the gold medals are earned. Day 15 of the Tokyo Olympics includes gold medal games for baseball (USA vs. Japan), men's basketball, and the final day of track and field. It's also the final chance for a Scripps Ranch cyclist to earn another medal in Tokyo.
Here's a list of five events to watch at the Tokyo Olympics Friday night into Saturday morning, which is from 4 p.m. PT on Aug. 6 to 7 a.m. PT on Aug. 7 San Diego time and Aug. 7 in Tokyo.
1) Baseball: Team USA Men's Basketball Defeats France to Win 4th Straight Gold Medal
The U.S. men's basketball team got its revenge on France, winning the gold medal game at the Tokyo Olympics, 87-82. The Americans held only a seven-point lead with three minutes to go, just as they did in the preliminary game against France, where France went on a run and got the win.
The French cut it to three with 10 seconds left on two free throws by Nando De Colo, but Kevin Durant made both of his free throws with 8.8 seconds left to seal the win.
"It's winning time," Durant said after the game when asked how he came through for the team in the gold medal game. Now a three-time gold medalist, he became the U.S. men's basketball team's leading scorer of all time during the Tokyo tournament. Jayson Tatum added 19 points for the U.S. off the bench, while starting guards Jrue Holiday and Damian Lillard each tallied 11 points.
The American men have now won four straight gold medals. The American women aim to extend their own gold medal streak against Japan at 10:30 p.m. ET on Saturday night.
This was Team USA baseball's return to the Olympics after 13 years.
The Team USA roster includes Todd Frazier, Scott Kazmir, Edwin Jackson, Anthony Gose and David Robertson bring MLB experience, while Triston Casas, Simeon Woods Richardson and Shane Baz are promising prospects. Another U.S. star is infielder Eddy Alvarez, who has already been under the Olympic spotlight in Tokyo as one of the American flag bearers for the Opening Ceremony.
The Team USA baseball roster also includes a couple of players with local ties: San Diego native Nick Allen – an alum of Frances Parker High School. Allen, an infielder and one of the Oakland' A's top prospects, was a part of the qualifying team that went a perfect 4-0 to earn a spot in the Tokyo Olympics.
There are also a few players on the Olympic team who have played for (or were connected to) the San Diego Padres in different capacities over the years: Patrick Kivlehan; Tim Federowicz; Edwin Jackson. You can read more about those ties here.
2) Team USA wins both 4x400m relays to bring the total gold medal count to 36
If the United States catches China in the race for most gold medals at the Tokyo Olympics, it will have both men and female track and field athletes from this morning's 4x400m relay races to thank.
On the men's side, Michael Cherry, Michael Norman, Bryce Deadmon and Rai Benjamin won gold in the 4x400m for the U.S. The Netherlands won silver, and Botswana wins bronze.
It was the ultimate redemption race for the US men's team which had not medaled yet in track and field.
Other final events from track and field on Saturday include: the women's high jump; women's 10,000-meter race; men's javelin throw; men's 1500-meter race.  
3) Track Cycling: Scripps Ranch's Jennifer Valente Wants Another Medal
Track Cyclist Jennifer Valente grew up riding her mountain and BMX bikes around her Scripps Ranch neighborhood in San Diego County. At first, it was just for fun. But, once she tried riding competitively, there was no going back.
Valente's list of accomplishments is already impressive. She has nine World Championship medals. She was part of the five-member women's team that made history for USA Cycling by winning the first world title in team pursuit. And, she took home a silver medal from the 2016 Rio Olympics.
Did we mention her team already earned a bronze medal at the Tokyo Olympics for track pursuit? Her team beat Canada with a time of 4:08.04.
Valente took the track early Friday morning for the women's madison event, which features teams of two going around the track 120 times, with points available at each sprint (five for first, then three, two, and one) and 20 points available if a team laps teams.
Britain won the first three sprints to take early control of the race and by the end, British cyclist Laura Kenny earned the sixth medal of her Olympic career alongside teammate Katie Archibald.
Kenny's husband, Jason Kenny, won his eighth career medal earlier in the Games but didn't have a chance to earn another in the day's other medal event, the men's sprint, having lost in the quarterfinals.
Valente and her teammate came in No. 9.
But on Saturday night, there's one more shot for the Scripps Ranch resident to medal at the Tokyo Olympics.
She will compete in omnium, which is described as the decathlon of track cycling. There are four events within the omnium -- scratch, tempo, elimination, and points races -- with the winner determined by who is the best all-around.
Watch Valente compete in four races starting at 6 p.m. Saturday PT here or at the link below.
4) Men's Basketball Beats France for Gold Medal
Team USA defeated France in men's basketball, this time for a gold medal. Kevin Durant had 29 points, and Team USA needed all of them, just like they needed every last possession to outlast the French 87-82.
This is Team USA's fourth-straight gold medal in men's basketball.
While the U.S. was largely favored to win the gold, doing it against this French team made the victory that much sweeter. France handed the United States its first Olympic loss since 2004 during the preliminary round not even two weeks ago, and the U.S. clearly didn't forget it.
As has been the story since the Olympics began, Kevin Durant was nothing short of sensational for Team USA in its gold medal victory, leading the Americans with 29 points on the night. The new all-time leading scorer for Team USA now has three Olympic gold medals under his belt at 32 years old.
During the tournament, Kevin Durant passed Carmelo Anthony for most points scored in Team USA history. The United States has won gold in men's basketball every Olympics since 2008 and will look to continue their Olympic streak.
5) Jessica Springsteen, Team USA Win Silver in Equestrian Team Jump at Tokyo Olympics
For Jessica Springsteen (yes, rock icon Bruce Springsteen's daughter and Tokyo Olympian), and the U.S. equestrian team, these glory days will never pass them by.
Springsteen, 29, helped the U.S. win silver during the team jumping final on Saturday at the Tokyo Olympics.
The U.S. and Sweden finished tied atop the leaderboard with eight faults after the first three groups. That sent the two teams into a jump off, where all three riders from each team compete on a short course, with the fewest faults and a potential tiebreaker of fastest combined team score determining the gold medal winner.
Laura Kraut and her horse Baloutinue began the jump off with their second clear round of the final, this one in a time of 41.33 seconds. Belgium's Henrik Von Eckermann responded with a clear round in a time of 42.0 seconds.
Springsteen, aboard Don Juan van de Donkhoevealso, also had a clear round with a time of 42.95 seconds, keeping the pressure on Sweden.
Malin Baryard-Johnsoon then finished a clear round in a time of 41.89, giving Sweden a slight edge in combined time at 83.89 seconds to the United States' 84.95 seconds.
Last U.S. team rider McLain Ward, aboard Contagious, was clear in 39.92 seconds. That gave the U.S. a combined time of 124.20, requiring Sweden's final rider Peder Fredricson to finish in less than 40.31. Fredricson was clear in 39.01, making the final jump with 1.3 seconds to spare and finish with a combined time of 122.90 to give Sweden its first team gold since 1924.