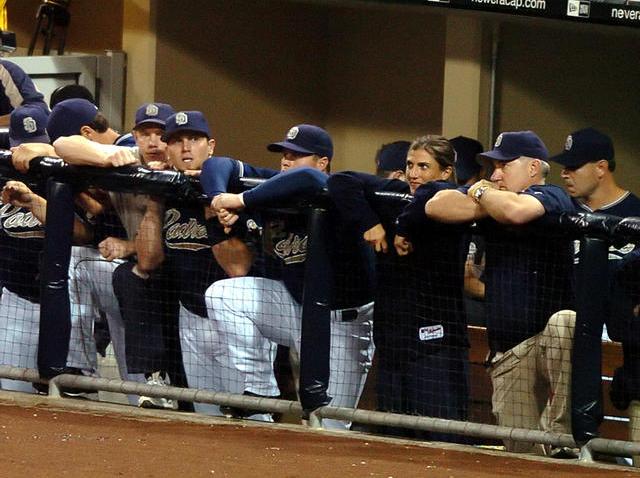 Kelvim Escobar made his spring training debut, allowing three runs, two earned and three hits in 3 1-3 innings as the Los Angeles Angels edged the San Diego Padres 6-5 on Friday night.
The 32-year-old right hander, who missed the entire 2008 season with a labrum tear in his right shoulder after winning 18 games the previous year, also had an RBI single. He allowed all three runs and hits in the first inning.
"I felt very good out there," said Escobar, who threw 41 pitches, 29 for strikes. "I think it's better because I'm doing something that I've been working on my whole career using my lower body and my legs."
SportsWrap
The top sports headlines of the day
Escobar had been working against minor league hitters this spring while trying to recover.

"It was great being back at a major league park," Escobar said. "It's not the same when you're down in spring training and facing minor league guys in 1 o'clock games. It was exciting facing good hitters."
Escobar, whose return was originally projected for midseason, said he'll see how his arm responds over the next few days before determining the next step.
"I don't want to forget that I'm way, way ahead of schedule," he said. "We have to be careful. But everything is going well."
Vladimir Guerrero hit his second home run of the spring off Walter Silva on a high fast ball in the second inning. Jeff Mathis' two-run double capped a three-run second.
The 32-year-old Silva is scheduled to make his major league debut Wednesday. Silva, who had allowed just one earned run in six innings in his previous stints this spring, gave up six earned runs on eight hits in five innings. He walked one and struck out four.
"I feel like I'm ready, I felt pretty good out there," Silva said. "My changeup, slider and curve were pretty good tonight, but I just got my fastball up a little bit and it hurt me."
Silva threw 28 pitches in the three-run second.
"You saw flashes of how Walter gets things done, some swings and misses on changeups and curves." Padres manager Bud Black said. "The pitchers were there, it's a matter of stringing them together."
Escobar struck out in his first at-bat, then lined a soft single to center scoring Torii Hunter with the fourth run in the fourth inning.
"They didn't want me to swing the bat," Escobar said. "It has been a while for me and it's kind of risky. Mike (Scioscia) gave me that look of, 'What are you doing?' when I swung. But I told him, 'The second time I'm going to take it easy. I'm not going to swing hard."
The Padres, who touched up Escobar for the two runs in the first on a pair of singles by Jody Gerut and Kevin Kouzmanoff and a double by David Eckstein tied it on a pair of unearned runs in the bottom of the fourth.
However, the Angels pushed across two runs in the fifth on RBI doubles by Bobby Abreu and Hunter.

Copyright AP - Associated Press