Manny Machado's first words at his San Diego Padres introductory news conference were succinct and fantastic:
"It's finally over. I'm finally a Padre."
The Friars officially introduced their $300 Million Man on Friday morning at the Peoria Sports Complex with many people still in disbelief that it was the Padres who pulled this deal off. Machado outlined how San Diego got in his radar.
'It's Gotta be Good': Manny Machado Puts on Padres Jersey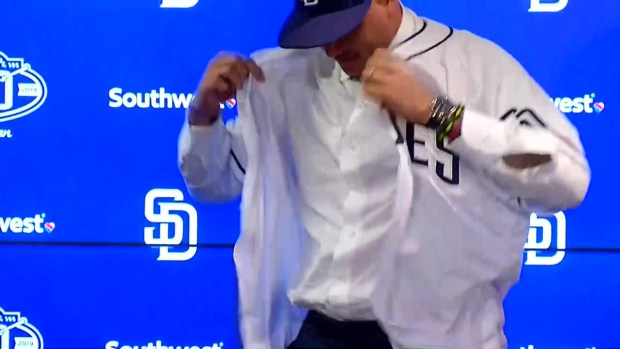 AJ Preller Talks Machado & Future of Padres
"In the last couple of weeks San Diego came in. I liked what A.J. had to say. I liked the game plan, from the ownership to the coaches to the players. The whole thing was perfect. One of the best farm systems in the game — THE best. It made the decision a little easier to come on board and help the younger guys and win a championship," Machado said.
Manny Machado is a San Diego Padre.

Sleep tight, #FriarFaithful. Tomorrow will be fun. pic.twitter.com/bYMblYtm8Q

— San Diego Padres (@Padres) February 22, 2019
Padres General Manager A.J. Preller said the team's newly streamlined financial situation allowed them to go out and do something huge like this.
"From a financial standpoint we've gotten our house in order and that allowed us to do something historic," said Preller. "This is obviously an entire organization decision. Over the last month, we really started getting serious."
Signed with a smile 🖊😁 pic.twitter.com/3mTy8fOx2e

— San Diego Padres (@Padres) February 22, 2019
The Padres had just about every department in the organization analyze the impact Machado would have on the Padres, from a marketing, revenue, and image standpoint as well as the obvious addition on the baseball field. Their conclusion was the financial commitment was worth it.
"A historic day for the San Diego Padres," said Preller. "A historic day for Major League Baseball."
'This is Just the Beginning': Manny Machado
Machado talked multiple times about his willingness to help the young talent in the San Diego system develop in the way he has over the past few years.
"I was once there," says Machado. "I was one of the top prospects in the game so I can help these young guys out."
Preller says Machado's addition is another piece to what they hope is a championship puzzle.
"He's not going to be one of one. He's not Manny Machado and the Padres," said Preller. "He's surrounded by some guys who are on his level the next few years."
Machado is now the Padres' lucky number 13.
It's Official: Manny Machado is a San Diego Padre