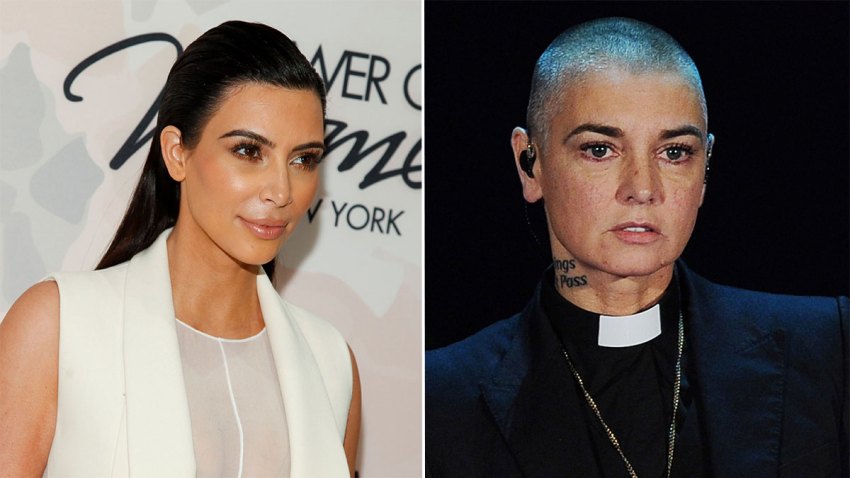 Rolling Stone just lost one of its fans.
Sinead O'Connor just put the famous music magazine on blast on Facebook for featuring Kim Kardashian on its current cover. The Irish singer has never been shy about her beliefs, and her latest post on social media is no different. In it, she slams the "Keeping Up With the Kardashians" star with harsh language and calls for fans to boycott the publication.
[[315335151, C]]
"What is this c--t doing on the cover of Rolling Stone? Music has officially died. Who knew it would be Rolling Stone that murdered it? Simon Cowell and Louis Walsh can no longer be expected to take all the blame. Bob Dylan must be f--king horrified. #BoycottRollingStone," she posted.
Her criticism received mixed reviews from her fans, with some defending her stance and others saying she has gone too far. One user commented, "Rolling Stone hasn't been about the music for a long while now."
Another wrote, "You know Sinead O'Connor I freaking adore you... however calling anyone the C word especially on social media, and especially given your status in the music world its disappointing."
PHOTOS: Kim Kardashian: Pop culture queen
One person even called out Dylan's absence in the music world. "Bob Dylan released an album which could only be bought at Starbucks," she wrote. "I don't think Bob Dylan would be as horrified as you think. Rolling Stone is about selling magazines."
This isn't O'Connor's first diatribe about A-list celebrities. The "Nothing Compares 2 U" singer also slammed Miley Cyrus for apparently "stigmatizing" mental illness, in addition to trashing Justin Bieber. She even called the music industry "nothing but vampires and pimps" in Time, saying that it does nothing but sexualize performers.
[[238904721, C]]
[[315310811, C]]
"The sounds of the records and the videos and how artists look has all been taken over by the industry. In a way, music's all been silenced. That's why I feel strongly about the oversexualizing of young women. As long as you're visually distracted, you're not really listening," she said. "Male artists too. Justin Bieber, he's being sold on his sexuality, but he's too young to even understand what's going on."
Copyright E! Online