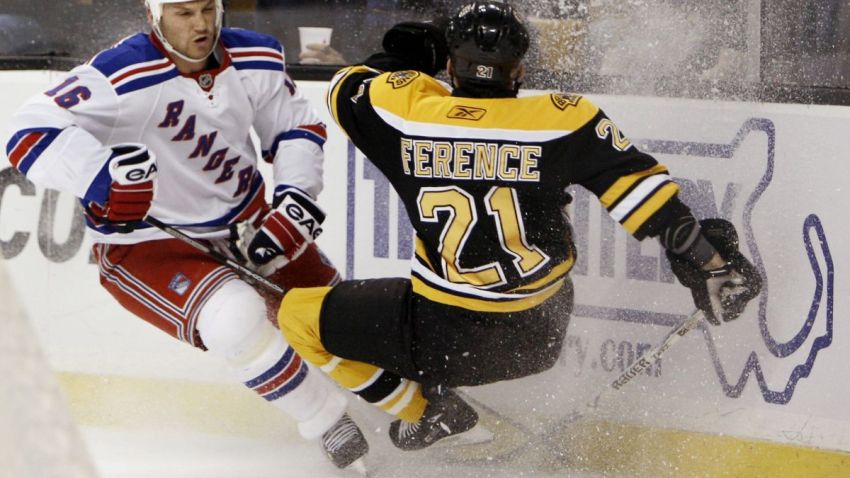 BOSTON — The Boston Bruins wrapped up the NHL Eastern Conference regular-season title in a 1-0 win over the New York Rangers on Saturday.
One day after signing a four-year, $20 million contract extension and 5½ minutes after being hit in the back of his helmet by Sean Avery, Tim Thomas backstopped the Bruins to their sixth straight victory. He made 31 saves for his fifth shutout of the season.
Boston clinched the best record in the East for the first time since 2001-2002. And it might have been a preview of the first playoff round, with the Rangers holding the eighth and final playoff spot in the conference.
Blake Wheeler scored his 21st goal at 9:04 of the first period.
Ducks 5, Sharks 2
At San Jose, California, Ryan Getzlaf set up goals for Bobby Ryan, Corey Perry and Teemu Selanne as Anaheim stayed in the thick of the Western Conference playoff race.
Ryan scored two goals — including the 30th of just his second NHL season — in the resurgent Ducks' 10th win in 12 games, keeping them in seventh place. Mike Brown also scored, and Jonas Hiller made 28 saves for Anaheim, which has won four straight.
Joe Thornton and Milan Michalek scored for the Sharks, whose lead over Boston for the NHL's best record stands at one point with four games to play.
Hurricanes 3, Penguins 2, OT
At Raleigh, North Carolina, Carolina clinched its first playoff berth since winning the Stanley Cup in 2006 when Anton Babchuk scored at 1:11 of overtime.
Cam Ward stopped 33 shots and matched a club record with his 38th win, helping the Hurricanes extend their team-record home winning streak to 11. Their eight-game overall winning streak is their longest since they won nine in a row in 2005-06.
Chad LaRose and Eric Staal both scored for the second straight game, and Ray Whitney added two assists for Carolina. Tyler Kennedy had a goal and an assist for Pittsburgh, and Jordan Staal also scored.
Devils 3, Sabres 2
At Buffalo, New York, Martin Brodeur stopped 35 shots — 21 in the third period alone — and Jamie Langenbrunner had a goal and assist for New Jersey.
Zach Parise and David Clarkson also scored to help the Devils snap a six-game road skid and move on the verge of clinching the Atlantic Division title. New Jersey also matched a franchise record for victories with 49 first set in 2006-07.
Jochen Hecht and Clarke MacArthur scored for the Sabres, who squandered a great opportunity to put themselves firmly in the hunt for the Eastern Conference's eighth and final playoff berth.
Canadiens 6, Maple Leafs 2
At Toronto, Jaroslav Halak made 34 saves, and Alex Kovalev had a goal and three assists to help Montreal close in on a playoff spot.
Guillaume Latendresse, Alex Tanguay, Chris Higgins, Maxim Lapierre and Josh Gorges also scored for Montreal.
John Mitchell and Boyd Devereaux scored for Toronto.
Senators 4, Flyers 3, SO
At Ottawa, Mike Fisher scored on Ottawa's fifth shootout attempt to lift the Senators past Philadelphia.
Jason Spezza scored his 31st goal 3:47 into the third to draw Ottawa even at 3. Nick Foligno and Chris Kelly also scored for the Senators. Darroll Powe scored on a penalty shot, and Mike Richards and Simon Gagne added goals for Philadelphia.
Oilers 5, Canucks 3
At Edmonton, Alberta, Sam Gagner had a goal and two assists to help Edmonton beat Vancouver and keep its slim playoff hopes alive.
Ales Kotalik, Denis Grebeshkov, Ales Hemsky and Sheldon Souray also scored to help the Oilers snap a three-game losing streak. Edmonton is three points behind St. Louis and Nashville in the race for the final Western Conference playoff spot.
Mason Raymond, Kyle Wellwood and Alex Burrows scored for Vancouver.
Islanders 3, Lightning 1
At Uniondale, New York, Yann Danis made 29 saves, and Richard Park, Radek Martinek and Josh Bailey scored to help New York snap a three-game losing streak.
Matt Pettinger scored for Tampa Bay, winless in its last six.
Predators 5, Blue Jackets 4, SO
At Nashville, Tennessee, Ville Koistinen scored the only shootout goal for Nashville, and Jason Arnott, back in the Predators' lineup after an 11-game absence because of a concussion, had two goals and an assist.
Shea Weber and Radek Bonk also scored to help Nashville match Anaheim and St. Louis with 86 points in the Western Conference playoff chase.
Rick Nash scored twice, and Jiri Novotny and Jason Williams added goals for Columbus, which was sixth in the conference, three points ahead of Nashville, Anaheim and St. Louis.
Stars 5, Blues 4, OT
At Dallas, defenseman Trevor Daley scored 16 seconds into overtime for Dallas, beating Chris Mason off Mike Modano's centering pass.
Loui Eriksson had two goals, and Mike Ribeiro and Steve Ott also scored for Dallas, eliminated from playoff contention.
Brad Boyes had two goals and two assists for St. Louis, which has surprisingly climbed into the top eight in the West. T.J. Oshie added a power-play goal, and David Backes also scored.
Kings 6, Coyotes 1
At Los Angeles, Brian Boyle and Alexander Frolov each had two goals, Justin Williams added a goal and two assists, and Jonathan Quick made 28 saves as Los Angeles trounced Phoenix.
Anze Kopitar had a goal and two assists, and Drew Doughty added two assists to help the Kings snap a three-game losing streak with their second victory in their last eight games. Shane Doan scored for Phoenix.

Copyright AP - Associated Press