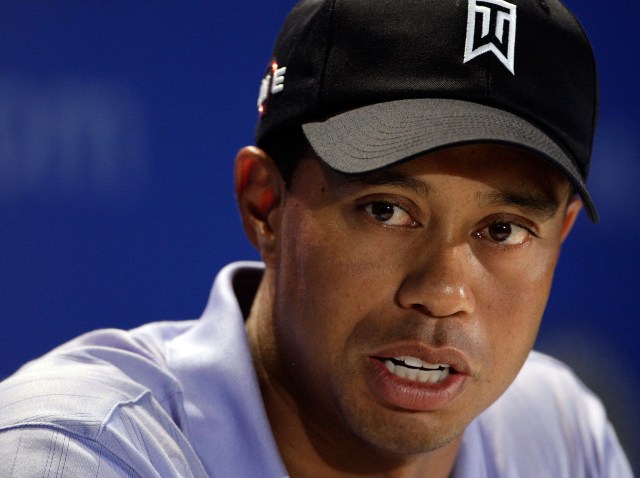 The Florida Highway Patrol said Monday that "charges are pending" in its case involving superstar golfer Tiger Woods, though it was unclear whether Woods and wife Elin Nordegren or other parties would be charged in the crash.
The agency released its first official statement Monday evening, saying the investigation continues and that authorities have been "unable to speak to Mr. Woods about the crash...despite attempts to do so," according to Usmagazine.com.
Woods' agent said Sunday his client was not required to speak to officers and that he had no "legal obligation" to meet with police after providing his license, registration and insurance.
The golfer and wife Elin have denied three meetings with cops, and Woods' only comment on the accident has been a veiled apology defending his wife and calling the crash an "embarrassing" mistake.
"As you all know, I had a single-car accident earlier this week, and sustained some injuries. I have some cuts, bruising and right now I'm pretty sore," Woods wrote on his site Sunday.
"The situation is my fault, and obviously embarrassing for my family and me. I'm human and not perfect. I will certainly make sure this doesn't happen again," he wrote.
Woods and his wife, Elin Nordegren, turned away troopers from the Florida Highway Patrol for a third straight day Sunday.
Rumors have circulated since the crash that Woods and Nordegren fought before he got into the car, reportedly about allegations of Woods' affair with A-list night club hostess Rachel Uchitel as reported in the National Enquirer. Uchitel roundly denied the accusations to TMZ, saying she had never been with Woods. Uchitel was spotted Sunday leaving her Manhattan apartment and later connecting with celebrity lawyer Gloria Allred in Los Angeles, the New York Daily News reported.
TMZ.com reported the scratches on Woods' face weren't from the car crash but from Nordegren herself, citing a source that had apparently talked to Woods after the accident.
Woods defended Nordegren, saying she acted "courageously" and bore no responsibility for Woods' crash.
"The only person responsible for the accident is me," Woods wrote. "My wife, Elin, acted courageously when she saw I was hurt and in trouble. She was the first person to help me. Any other assertion is absolutely false."
The No. 1-ranked golfer in the world asked that the media and fans provide "privacy" and "understanding" in the accident's aftermath.
"Although I understand there is curiosity, the many false, unfounded and malicious rumors that are currently circulating about my family and me are irresponsible," he wrote.
The Windermere Police Department initially reported that Nordegren heroically used a golf club to extricate Woods from the vehicle, but Nordegren told a different story to the Florida Highway Patrol, according to TMZ. The source TMZ spoke with said Nordegren didn't use a club to help get her husband to safety but instead struck the car with the club in anger before Woods drove away.
On Sunday police released a 911 tape from Woods' neighbor, which did not identify the famous golfer by name.
"I need an ambulance immediately, I have someone down in front of my house, they hit a pole," the male voice said. "They're laying on the ground. I see him and he's laying down… It's a black Escalade."
The couple previously turned police away for questioning twice, both late Friday and early Saturday, when Nordegren told officers Woods was sleeping and couldn't answer questions.