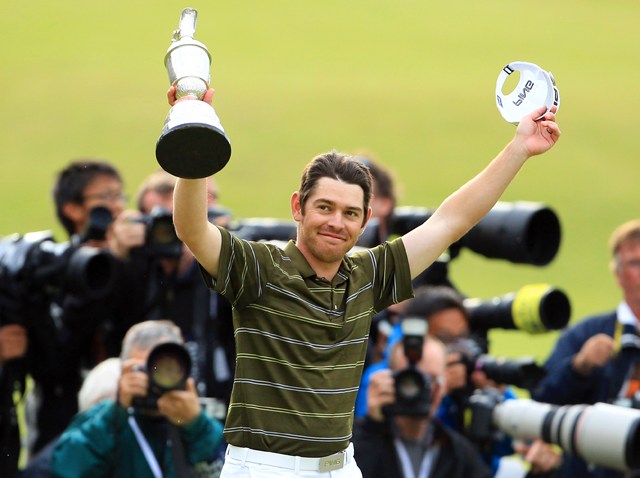 A week after the World Cup ended, South Africa had more reason to celebrate Sunday, this from a most unlikely source. Louis Oosthuizen, a 27-year-old who had only made one cut in his previous eight majors, blew away the field at St. Andrews for a victory at the British Open that looked as easy as when Tiger Woods first won here a decade ago.
Oosthuizen made only two bogeys over the final 35 holes in a strong wind that swept across the Old Course. He led over the final 48 holes and closed with a 1-under 71 for a seven-shot victory over Lee Westwood of England.
He finished at 16-under 272 and became the first player since Tony Lema in 1964 to win his first major at St. Andrews.
For all the craze about those vuvuzelas, the sweetest sound for Oosthuizen turned out to be the skirl of a bagpipe.
Oosthuizen could not think of a more special venue to capture his first major. He just had no idea it would be this easy.
He never let anyone get within three shots of him in the final round, and he answered that brief challenge from Paul Casey by knocking in a 50-foot eagle putt on the par-4 ninth green to restore his cushion. Casey's hopes ended with a triple bogey into the gorse three holes later, and Oosthuizen spent the final hour soaking up an atmosphere unlike any other in golf.
"Nobody was going to stop him," said Casey, whose adventures in the gorse sent him to a 75 and a tie for third with Rory McIlroy (68) and Henrik Stenson (71). "He didn't miss a shot today. I don't know if he missed one all week. That was four days of tremendous golf. He didn't flinch today."
No, there was only that gap-tooth smile that earned him the nickname "Shrek" from his friends. And there was amazement across his face when he cradled the oldest trophy in golf, a silver claret jug with his name etched alongside Woods, Jack Nicklaus, Ben Hogan, and the other South African winners - Player, Bobby Locke and Ernie Els, his mentor.
Copyright AP - Associated Press