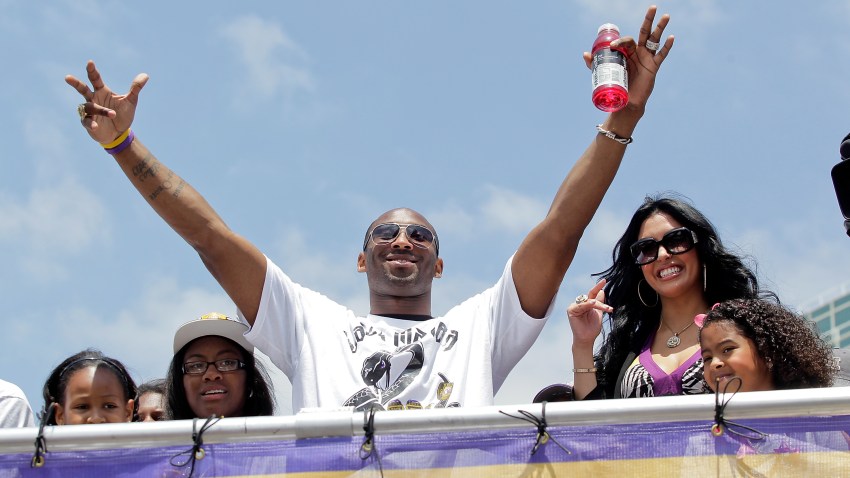 Thousands of people gathered in downtown Los Angeles Monday to watch the NBA champion Los Angeles Lakers' victory parade on Figueroa Street.
Unlike last year's parade, which was followed by a celebration complete with speeches and Laker Girl performances at Los Angeles Memorial Coliseum, there were no post-parade events, leaving those hoping for a Ron Artest curtain call from "I've got Wheaties!" sorely disappointed.
"I'm disappointed they are not going to have a rally at the end," said Ana Zavalza, 26, of Whittier. "I expected more.''
But there were plenty of "Ron-Ron moments" along the way.
Fan Photos: Send Us Your Images
The victory parade began at Staples Center and traveled south on Figueroa Street to Jefferson Boulevard, where the procession headed east and end just north of Galen Center.
City and Laker officials anticipated a crowd of between 500,000 and 2 million fans lining the two-mile parade route, according to John Black, the team's vice president of public relations. Some fans waited overnight along the route to stake out a prime spot.
Players rode on a customized flat-bed float, equipped with audio capabilities. A convoy of double-decker, open-air buses and other vehicles carried Laker coaches and staff, members of the Buss family, which owns the team, team officials and the Laker Girls dance team.
"Every time we have one of these, the numbers are just jaw-dropping," said Kobe Bryant.
Along the parade route, one fan hoisted a foam tombstone reading "RIP Boston." A woman carried a homemade poster boasting: "Back to back without Shak."

Or Shaq.
Fan Jimmy Baskom, 58, said he took the day off from his job as a window washer in Palmdale because he wanted to see his longtime basketball heroes in person. He wore a purple and gold jacket and hat.

"I've been a die-hard fan all my life and I watch every game but this is my first opportunity to see them in person," he said.
During the parade, players were interviewed aboard the bus, giving fans a chance to hear from the team.

"It's great that my family is here to share it with me," said Artest. "I mean, that's the best feeling in the world, out here with my daughter, my wife, my sons, my mom, my dad, everybody. It's great.

What's gonna happen this summer is we put that work in this summer and then ... we (are) gonna write history again."

Lamar Odom said he was looking forward to some rest over the summer.

"Mentally I'm exhausted," Odom said, noting that he would be "going to Mexico with my wife to just hang out."
Who's Paying for All This?
City Councilwoman Jan Perry said the Lakers organization has agreed to shoulder the cost of the parade and security.
Perry, whose district includes downtown Los Angeles, said the actual costs were still being determined, but she estimated that the breakdown would be roughly:
$80,000 for Fire Department services;
more than $5,000 for General Services;
about $10,000 for the Information Technology agency;
more than $1 million for the Police Department;
less than $2,000 for sanitation and cleanup;
less than $4,000 for street services; and
placement of K-rails for crowd control would be about $150,000.
City and Laker officials urged people who plan to attend to parade to do so peacefully -- and avoid the type of violence that marred the post-game celebrations Thursday night.
The LAPD said officers made nine arrests. Fire Department spokesman Brian Humphrey said paramedics treated some parade-goers who became ill, but there were no serious injuries.
Chief Charlie Beck said there are "a few people that come to these events to spoil them, so we have to be ready to deal with that."
The Lakers overcame a 13-point third-quarter deficit to defeat the Boston Celtics, 83-79, Thursday night in Game 7 of the NBA Finals at Staples Center to win their second consecutive championship.
Follow NBCLA for the latest LA news, events and entertainment: Twitter: @NBCLA // Facebook: NBCLA
Copyright CNS - City News Service