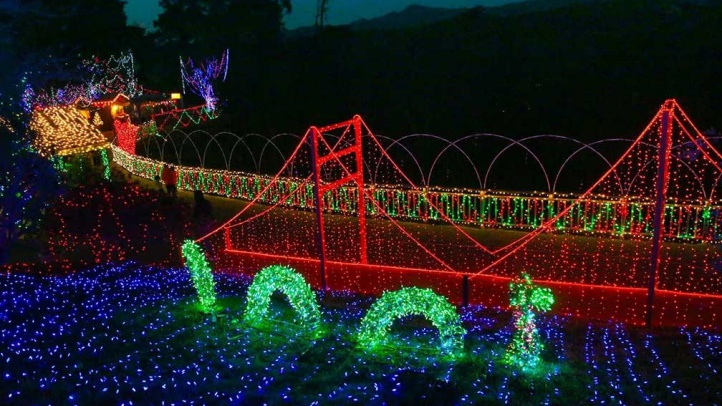 A TWINKLE IN ONE'S EYE? It's a delightful description we use to indicate that there's an especially mirthful person in our presence. Perhaps the person has a lively outlook, or an air of goodness, or just an extra layer of pizzazz, the sort of pizzazz that isn't easy to come by, unless you know how to own it naturally. As far as labels go, it is a lovely one, all told, but it's only ever applied to humans and never happenings. But what if there was an event that had a bit of twinkle in its eye, so to speak, and actual twinkle, as in the glowing, bulb-based kind, for visitors to admire? Then you would almost surely be talking about the annual...
CAMBRIA CHRISTMAS MARKET, a merry, multi-night affair that kicks off, with cheer and charm, just after Thanksgiving each year. The ticketed to-do is all about twinkle, as in loads of lights, but its happy vibe and easygoing outlook lend to the whole twinkle-of-the-eye atmosphere that's developed over eight years. And it is an atmosphere that is enhanced by not only the intricate lighting displays (of which there are several) but also the numerous gift-cool vendors and food sellers, too. The model for this yearly pop-up? It's the end-of-the-year markets of Europe, specifically the old towns of Germany, so count on cuisine that reflects that inspiration, as well as tummy-warming glühwein.
TICKETS GO, GO, GO, as quickly as a salty breeze comes in off the nearby Pacific, so best alight on the night you'd like to attend before your chosen evening fills up with other twinkle-seeking revelers. The cost? It's $10-$25. Also note that tickets do increase in price at the door, if you choose to wait on purchasing. But why wait? Finding a festive spot that is both twinkly of light and twinkly of character is a rare thing, and that Cambria is involved only further deepens this Christmas Market's authentic quaint-a-tude. The market is open on select nights from Nov. 29-Dec. 23, 2019, at the Cambria Pines Lodge.
Copyright F