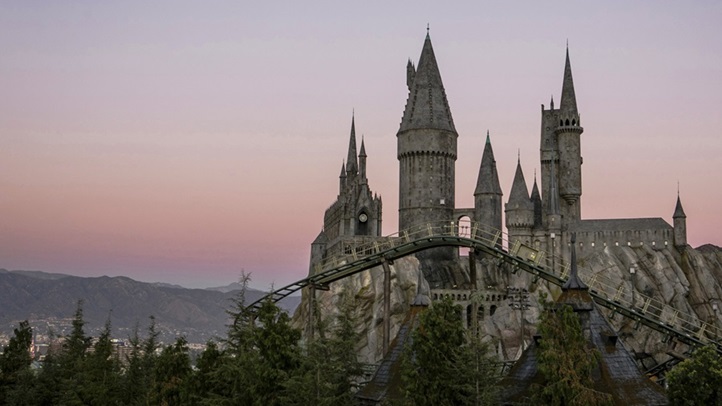 IF SOMEONE WERE TO ASK YOU... for directions to Hogwarts, you could accurately point them to the nearest bookstore, or the library, or perhaps a DVD set, or even Orlando, Florida. What hasn't been a choice on the compass, up to now, is recommending "Universal City, California," for Universal City, California was very much about prehistoric times ("Jurassic Park") and animated wonderlands ("The Simpsons" and "Despicable Me: Minion Mayhem") and other places of a whimsical but not-so-Harry-Potter-y nature. That will all change, with the wave of a wand, on Thursday, April 7 when The Wizarding World of Harry Potter debuts at the famous theme park.
THIS ISN'T SIMPLY A RIDE... or a restaurant or a gift shop. This is, indeed, the world it says it is in its very name, with themed environments seemingly plucked straight from the beloved series. There's the Flight of the Hippogriff, billed at Universal Studios Hollywood's "first outdoor family friendly coaster," and there's Harry Potter and the Forbidden Journey, a 3D ride that whisks you through the storied passages of the pages you know and adore. You'll find your Butterbeer at Three Broomsticks, in addition to turkey legs and the Great Feast Platter, and Honeydukes carries supernaturally yummy sweet treats, like Fudge Flies. If you're a big Butterbeer buff, there's also a standalone cart pouring the celebrated beverage.
AS FOR CLOTHING, WANDS, AND SUCH? Filch's Emporium of Confiscated Goods, Owl Post, and Gladrags Wizardwear are three of the retail outfits lining the lively thoroughfares of Wizarding World. (Yep, Owl Post is very much about a particularly loyal winged beast, in all of that beast's beautiful forms.) So, how do you get to Hogwarts? It's no trick question, since there are several correct answers. But a big one will fly into view, on April 7, in Universal City.
Copyright FREEL - NBC Local Media