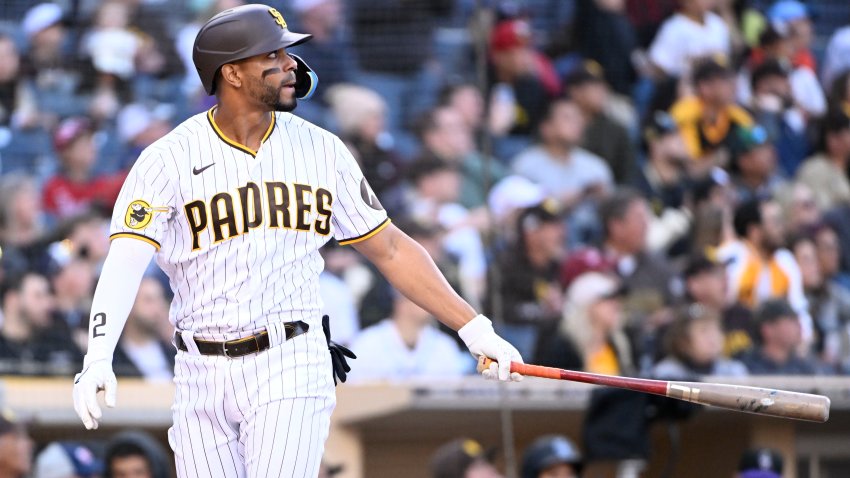 This is more like it.
After scoring a total of three runs in their first two games the Padres offense showed what it's capable of on Saturday night in an 8-4 win over the Rockies at Petco Park. It was their new superstar shortstop who set the tone.
Xander Bogaerts launched his first home run in a Padres uniform in the 1st inning, a 2-run shot that came off the bat at 109 MPH. As Bob Melvin said after Friday night's 4-1 loss, perhaps getting some early runs would loosen everyone up a bit and let the bats start working.
The skipper knows what he's talking about. In the 3rd inning Matt Carpenter ripped a double down the right field line to score Juan Soto and Jake Cronenworth and make it 4-0 Padres. On the mound, new starter Michael Wacha made his San Diego debut and was plenty good enough to win.
In the 6th inning he gave up a monster 2-run home run to CJ Cron, who's hit three bombs in three games to start the year, to make it a 5-4 Padres lead. Wacha got out of the inning, finishing his six frames in an efficient 83 pitches. He also got his first SD win.
Manny Machado got a run back with an RBI single in the bottom half to make it 6-4 and the Friars doubled that lead in the 8th inning with a glimpse at baseball in 2023. Juan Soto, who was hitless for the season, stepped in with two runners on and two outs. He hit a grounder up the middle that a year ago would have been gobbled up by a shifted infielder.
This is exactly why shifts were banned.
The ball rolled into centerfield for Soto's first knock of the year, both runs scored to make it 8-4, taking away the possibility for a save. Melvin was not about to let the first win of the year get away or deny the sellout crowd of 42,663 a look at their electric closer.
Josh Hader made his season debut and threw a perfect 9th inning with two strikeouts, exactly the way they drew it up. The Padres can salvage a series split on Sunday afternoon behind another fresh face, right-hander Seth Lugo.
LISTEN: With NBC 7 San Diego's Darnay Tripp and Derek Togerson behind the mic, On Friar will cover all things San Diego Padres. Interviews, analysis, behind-the-scenes...the ups, downs, and everything in between. Tap here to find On Friar wherever you listen to podcasts.