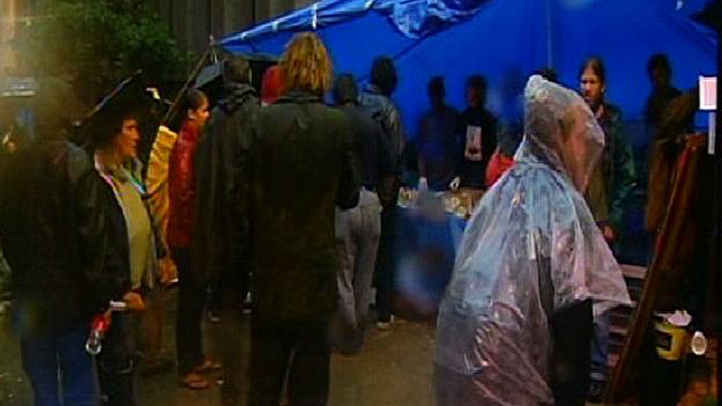 Occupy San Diego received support from a group of local women who delivered food, held a press conference and joined a march Saturday afternoon at the Civic Center.
"We wanted to show that the movement includes average Americans and voters," said one of the event's organizers Marilyn Driscoll, 60.
As the rain poured, more than 100 people gathered to show their solidarity for the movement, now in its 37th day.
Women spanning in ages from 13-years-old to grandmothers took part in the event, which occurred at about 4 p.m. Tarps, rain ponchos, clothing and food were provided to protesters, after which the group marched from the Civic Center to nearby Horton Plaza mall.
The idea for the event stemmed from a book club meeting that later spread to social networking sites and by word of mouth, according to City News Service.
"We want to show that we are part of the 99 percent demanding change in this country, although we're not sleeping in the plaza," North Park resident Kristen Smith told CNS. "These protesters are as American as apple pie," Smith added.
Driscoll, who said she's been visiting the Civic Center since Occupy SD began, maintained that underlying goal of the protesters hasn't changed and that the protesters were still rallying against what they perceive as corporate greed and government corruption.
"People who have gotten really wealthy in this country have not done this by themselves," Driscoll said, "their doing it with a lot of sweat from everybody else."
Even with recent events such as the raid on protesters by San Diego police, as well as actions by officers that some demonstrators say is police brutality, Driscoll said members of Occupy SD remain strong.
She pointed to last weekend's march along with Bank Transfer Day as a sign of the movement's advancements, "My sense is that morale is very high and very strong and I think that the act last weekend was a very powerful accomplishment."
Apart from the gathering, Occupy organizers also took to social media sites asking for donations for additional supplies as protesters dealt with Saturday's heavy rainfall.