Multiple records were shattered Tuesday and San Diego County residents kept an eye on the skies as a fire weather warning continued into the second day.
The National Weather Service issued a fire weather warning until 6 p.m. Wednesday meaning any fires that develop will likely spread rapidly especially through Tuesday.
In Vista, temperatures up to 107 degrees were recorded Tuesday, according to the National Weather Service. That tops 96 degrees recorded in 1965. The average this time of year for Vista is 76 degrees.
Poway also saw temperatures in the 107-108 range, according to the NWS.
With record-breaking temperatures and near-zero humidity, the conditions were ripe for a fast-spreading fire and local fire agencies have staffed up in advance.
The U.S. Forest Service increased the threat index for Santa Ana-driven wildfires. On Monday, the agency said any fires that erupted "may grow rapidly." On Tuesday, the Forest Service said that "upon ignition, fires will grow rapidly and will be difficult to control."
Fire crews in the county were also prepared, in case of any wildfires.
"When the weather gets hot and dry, we have to be prepared," said John Buchanan with the North County Fire Protection District.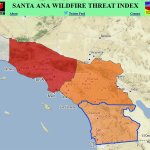 Excessive heat warnings were in effect for inland communities like Escondido, El Cajon, San Marcos, La Mesa, Santee, and Poway. Vista, Carlsbad, Encinitas, Chula Vista, National City, and San Diego were also under an excessive heat warning, according to the NWS.
In Campo, winds were blowing at 45 mph, forcing truck drivers to pull over for safety reasons. Signs posted along Interstate 8 also warned motorists of High Wind Danger.
Eighty-five schools will be on a minimum day schedule Tuesday and Wednesday due to expected excessive heat, the San Diego Unified School District officials said.
The San Diego International Airport recorded 97 degrees, breaking a record set in 1965.
In Chula Vista, temperatures reached 99 degrees Tuesday, the NWS said, topping the record 91 degrees reached in 1990. The average this time of year for this community is 75 degrees.
Escondido tied a record set in 1909 when temperatures reached 104 degrees.
Ramona saw 100-degree heat, breaking a record set in 2007 and Alpine broke a 1968-record when it reached 99 degrees.
In El Cajon, temperatures were recorded at 104 degrees. The record on this day was 98 degrees set in 2007.
El Cajon topped 104 Monday, breaking the record of 100 degrees held since 2003. Ramona reached a record of 101 degrees Monday. Records held for more than 50 years were shattered by the 100-degree high in Vista and the 99-degree high in Alpine.

Download the free NBC 7 mobile app to stay updated on the weather.