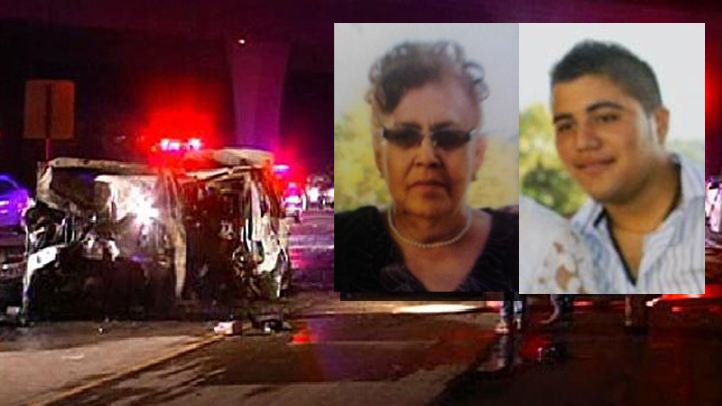 A San Diego woman mourns the loss of her mother and her son - both victims of a fiery crash caused by a suspected drunken driver.
Celia Torres, 73, had just picked up her grandson David Gonzalez, 16, for a dentist appointment just after 5:30 p.m. Friday when their car was struck by another on SR-125.
"He was a good son. A real, real good son. He was doing his best," Andrea Vazquez said Sunday.
Vazquez 's eldest son David was working on his diploma at Grossmont High School and wanted to join the military.
David and his younger brother often made the trip to Tijuana with their grandmother. On this Friday, the younger boy had Saturday school so he skipped the trip.
Just a few minutes later, Torres and Gonzalez were killed in a fiery crash that happened when Justin Foulds, 39, rear-ended Torres' Nissan Pathfinder according to officials.
Foulds was speeding in a Silverado pick-up truck and wasn't able to slow down as traffic slowed, CHP investigators said.
The Nissan and the truck exploded into flames. Foulds was able to get out of the Silverado alive.
"He was oblivious to what he was doing until he smashed into another car," said Jeff Lieras, a witness at the scene.
Foulds was arrested and booked into the San Diego Central Jail at 1173 Front Street. He was held on $500,000 bail and faces a gross vehicle manslaughter charge as well as two DUI charges, according to jail records.
Vazquez hopes others will learn from the tragedy and will avoid drinking and driving over the holidays.
"Don't get stupid and get on the highways," she said.
Foulds is set to be arraigned on Tuesday.