Since Major League Baseball became a thing, a shade more than 19,000 men have played in the big leagues. Only 226 have been honored as Hall of Famers.
On Sunday, two San Diegans will join baseball's version of 1-percenters.
Padres closer Trevor Hoffman and Kearny High Comet Alan Trammell take their well-deserved place in baseball's most exclusive club.
Hoffman's accomplishments speak for themselves. I don't care what you have to say about the save statistic, the man has an award named after him. Anyone with his own award is a Hall of Famer. Plus Hoffy had that "IT" factor that a legend needs to have.
He didn't just change baseball games on the field. He changed them in the stands. If there was a close game in the 7th inning in San Diego the stadium would start humming. If the Padres had the lead in a close game the 8th inning the place would be buzzing.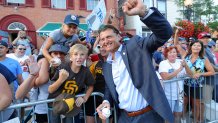 If the Friars were up by three or less after the 9th then all hell would break loose.
The second the first shot of AC/DC's "Hell's Bells" rang out the ballpark whipped into a frenzy. Trevor Hoffman is the reason baseball closers have entrance music. His mere presence made baseball games fun, even for Padres fans who haven't had a whole lot of fun for four decades or so.
San Diego has been to the playoffs five times in its history. Hoffman was the closer for four of them. While the fan base suffered through more losing seasons than winning ones they had Hoffy to give them occasional moments of joy.
Trevor's Time came in his third year of eligibility. That was far too long for a man who had the impact on the game that he had but it was a small intermission compared to how long Trammell had to wait.
Trammell is a six-time All-Star shortstop who won four Gold Gloves and three Silver Sluggers. He was a keystone member of the Tigers 1984 World Series team, hitting .450 and winning MVP honors (unfortunately against his hometown Padres).
After baseball writers failed to vote him into Cooperstown during his window of opportunity the Veterans Committee, which is made up of Hall of Fame players, executives and baseball historians, added Trammell immediately.
On a very special Sunday in New York, San Diego will be well represented. Congratulations to Trevor, Alan and the entire class of 2018.