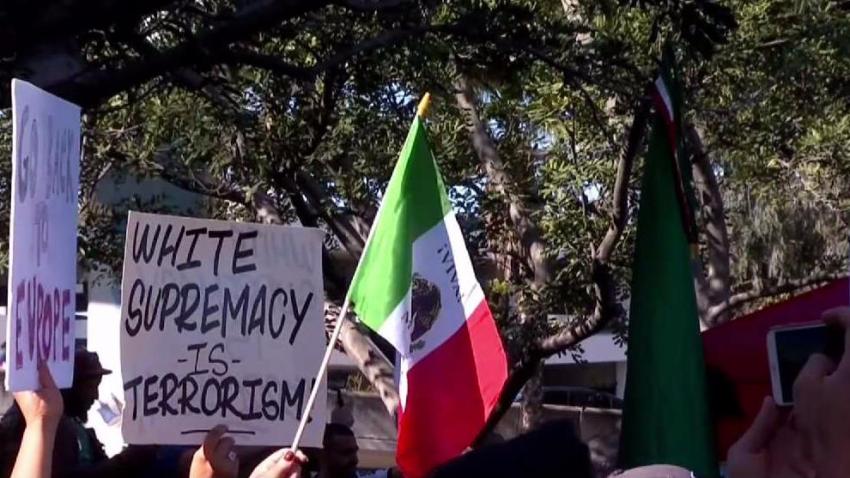 A man accused of punching a San Diego police officer had a history of assault and disorderly conduct, NBC 7 learned Friday.
Frederick Burnett Jefferson, 39, pleaded not guilty to four charges, including assault on a peace officer and resisting arrest, at a brief court appearance on Feb. 8.
The charges, which could result in up to nine years and four months in prison for Jefferson, stem from an alleged attack on a San Diego Police Department (SDPD) officer Saturday who was maintaining the peace between two opposing groups demonstrating in Chicano Park.
One group, dubbed the Patriot Picnic, was demonstrating against the park located under the Coronado Bay Bridge that they believe discriminates against non-Latinos. The group of about three dozen gathered at the San Diego Convention Center Saturday and marched to Chicano Park, where they were met with hundreds of counter-protesters.
After the alleged assault, the unnamed SDPD officer was hospitalized with fractures to his face and nose, according to SDPD Lt. Scott Wahl. The circumstances leading up to the altercation were not made clear at Jefferson's arraignment.
Before coming to San Diego, Jefferson lived in Sacramento, Maryland, Nevada, and Arizona.
According to Baltimore Police Detective Nicole Monroe, Jefferson had been arrested twice while living homeless in Baltimore.
The first arrest occurred on May 25, 2009.
According to Detective Monroe, Jefferson was using an outlet on a city-owned light-pole to charge his DVD player at a local park. An officer came by to let him know he cannot use the city's energy. According to Monroe, that's when Jefferson "became irate."
"He cursed at the officer and refused to calm down," Monroe said. "The officer waited for him to comply and when he did not, he arrested Jefferson."
Jefferson was charged with disorderly conduct and stealing the city's electricity.
Three months later, on Aug. 8, 2009, Jefferson was arrested for "stomping" on a man's head.
According to Monroe, a female Baltimore police officer was driving by the 900 block of East Fayette Street when a passer-by stopped her and told her a man was on the curb, bleeding from the face and head.
"The victim was rushed to the hospital in critical condition and had to undergo surgery," Monroe said.
Jefferson later came to the police station and turned himself in, admitting he had assaulted the victim.
Prior to these incidents, Jefferson was charged with a misdemeanor of resisting an arrest and vandalism in Sacramento, according to Sacramento Police.
NBC 7 is working on learning more about the case in Sacramento and will update this story once we learn more.
The SDPD officer allegedly assaulted by Jefferson is still not back to work as of Friday, according to Lt. Wahl.