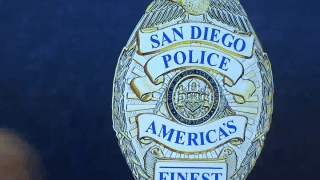 An investigation is underway after San Diego police got a call of a bullet entering a Scripps Ranch home on Wednesday evening, the department said.
Authorities received the call just after 8:30 p.m. and responded to a home on the 10900 block of Ivy Hill Drive. There, officers were told that a bullet went through their wall from an adjacent townhome unit.
Police contacted the resident's neighbor and determined the bullet appeared to have come from what authorities described as a "small caliber handgun."
"Unfortunately, there was a dog that had been shot to death inside the suspect's apartment," according to department spokesperson Lieutenant Adam Sharki.
No injuries were reported in connection to the incident.
Officers arrested 26-year-old Keaton Hall in the neighboring unit, who is facing charges of shooting at an inhabited dwelling and animal cruelty.
Hall is due in court for an arraignment at 1:30 p.m. on Monday, March 28th in San Diego Superior Court.
The incident occurred in the same complex where a 10-year-old boy died in 2013 after he and a friend were playing with an unsecured gun.