We have lift-off! A San Diego-based Navy vessel deployed this week for a mission with NASA that will set the groundwork for the agency to recover its Orion space exploration vehicle on its return from space.
Amphibious transport dock USS John P. Murtha left Naval Base San Diego on Tuesday to join the National Aeronautics and Space Administration to test the recovery process of a replica Orion spacecraft, designed to carry astronauts on missions to the Moon, Mars and beyond.
Orion is preparing to power the "most powerful rocket in the world" into space and travel about 280,000 miles during Exploration Mission-1, the longest and fastest space exploration mission ever conducted -- more than 1.3 million miles in about three weeks, according to NASA.
Navy amphibious specialists, Navy divers and Air Force weather specialists make up NASA's Landing and Recovery Team, which will retrieve the capsule and the crew after splashdown and return them both to land, according to NASA.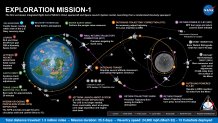 During training, Navy divers will practice inspecting the spacecraft for hazards, and hook up tow lines. Then, NASA engineers will tow the capsule into the recovery ship and transport Orion back to Naval Base San Diego.
The Navy in partnership with NASA's Exploration Ground Systems launched training in January to begin prepping Orion for space travel. So far, their tests have been conducted on a replica spacecraft.
Ultimately, Orion will launch from Kennedy Space Center in Florida and be recovered off the coast of Baja, California.
The agency said Orion will enter the atmosphere traveling at 25,000 mph. As it re-enters, Orion will slow to 300 mph. Then, parachutes will deploy, slowing the spacecraft to approximately 20 mph before it splashes down in the Pacific Ocean, about 60 miles off California's coast.
The mission, slated for sometime next year, will pave the way for flights with astronauts beginning in the early 2020s, according to the space agency.