Cold and alone, a pit bull mix was discovered in San Pasqual Valley Friday so neglected that he weighed less than 20 pounds, the San Diego Humane Society said.
The SDHS said a grove manager at Bandy Canyon found the emaciated pooch early Friday morning curled up in some vegetation in the rural area east of Interstate 15 and south of Escondido. The dog was taken to the SDHS's Escondido campus for medical treatment.
SDHS officials said the dog – which appears to be about 2 years old – weighed less than 20 pounds and was extremely dehydrated with a low temperature. He also had pressure sores on his hips and knees.
SDHS Law Enforcement Sgt. Laurel Monreal said the dog was lethargic and extremely weak.
He was given IV fluids, and veterinarians placed him on a heated bed to raise his temperature. Video released by the SDHS showed just how thin he was, his spine and ribs clearly marked against his fur.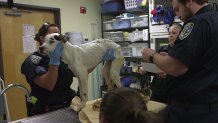 Vets also gave the pup a bath, food and lots of attention. He relished the pets and snuggles.
With just a little bit of love and care, Monreal said the dog's demeanor began to change slowly.
"We've started to see a little spark and, even despite his horrible condition, he wags his tail," said Monreal. "I mean, you can't imagine the spirit in these animals."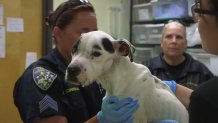 Due to the critical condition of the dog, the SDHS said the case is a felony animal cruelty investigation. SDHS law enforcement is looking for information to identify who left the dog in Bandy Canyon and who neglected the animal so severely.
Anyone with information on this animal cruelty case can reach out to Crime Stoppers at (888) 580-8477. Crime Stoppers is offering a reward of up to $1,000 for information leading to an arrest in this case. Information can also be reported to SDHS's Law Enforcement at (619) 299-7012.
"We need your help. Somebody recognizes this dog; somebody knows something," said Monreal. "We'd like you to reach out to us or to Crime Stoppers and give us any information that could help us find who's responsible for the condition of this dog. They need to be held accountable."