If you've been out hiking recently, this won't surprise you: San Diego County is seeing a near record spring for rattlesnake sightings, according to numbers released Wednesday.
Already this year, the County's Department of Animal Services responded to 305 snake calls, most of them from around homes and businesses. It's the second most calls they've had during this same time period over the past 17 years.
The only other peak year came in 2015, when county officials received 310 calls between January and April of that year.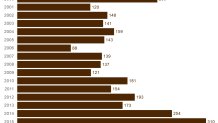 And it's not just the deserts that are experiencing an influx in slithering sightings. Just this week, a couple hiking Torrey Pines captured video of a large rattlesnake they encountered on the trail.
"They're there," said local resident Karen Moreland. "We've seen them before on many trails, but you just want to be sure you're walking, being aware, listening because usually you're going to hear them before you see them.
Animal Services officials say the best thing wary homeowners can do is to make sure their property is clear of mice and rats, which of course attract hungry snakes.
So why this year? Officials couldn't pinpoint an exact reason, though they believe an increasing number of snake sightings is correlated to the growing number of homes built in snake territory.
Officials also believe there will be even more snake calls next year. Here's why: this year's extra rain will bring more grass and food for mice and rats. More mice and rats will mean predators will reproduce at a larger number.