San Diego was well-represented Wednesday at the 2016 Rio Games as local athletes set their sights on victory in Brazil.
On Wednesday, athletes with local ties competed in archery, sailing, water polo and women's volleyball.
San Diego native Caleb Paine raced his third and fourth races in the men's finn category. Paine ranks 7th going into the fifth race. His best performance was in his second race Wednesday where he placed third.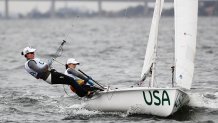 The American women's 470 team of Annie Haeger and Briana Provancha won gold in the test event in Rio – the very place where they will be contending for a medal. Provancha, a 2007 Point Loma High School graduate who grew up at San Diego's Southwestern Yacht Club, sailed Wednesday in Guanabra Bay in Copacabana. She finished the first race with an 8 ranking and took third in the second race, ending the day fifth overall.
The U.S. men's water polo team entered their game against France 0-2 but scored a win. The team - with locals Alex Bowen of Santee and Jesse Smith of Coronado - beat France 6-3 with Smith scoring one of the US goals. See results for preliminary play here.
Chula Vista Olympic Training Center (OTC) resident athlete Zach Garrett advanced after his Round of 64 competition with a score of 6-0. He advanced from the Round of 32 with a 7-3 score.
His teammate, Brady Ellison, advanced Tuesday with a win over fellow American Jake Kaminski.
Now, Ellison will face Garrett in the Round of 16 on Friday, Aug. 12 at 6:31 a.m. PT.
Both Ellison and Kaminski have also trained at the Chula Vista OTC.
The U.S. women and locals Karsta Lowe and Carli Lloyd battled at the net against Serbia in the preliminary stage of the women's Olympic volleyball tournament Wednesday. The Americans won three out of four sets to finish 2-1 in Olympic play. Lloyd is a Bonsall native and Fallbrook High School graduate. Lowe is a Rancho Santa Fe native and graduate of La Costa Canyon High School.
The U.S. now has eight points to lead Pool B, one point ahead of China and two ahead of Serbia and the Netherlands. The women compete again Friday at 11 a.m. PT against Italy.
Carmel Valley's Steffen Peters will compete in Team Dressage and the event began Wednesday. The event takes place at the Olympic Equestrian Center in Deodoro. Peters will perform in Thursday's round.
For updates from the 2016 Rio Games, including profiles of San Diego athletes, visit our Olympics section here.
NBC 7's Steven Luke is reporting from Rio during the 2016 Olympic Summer Games; follow him on Twitter and Facebook for exciting updates from Brazil over the next few weeks.