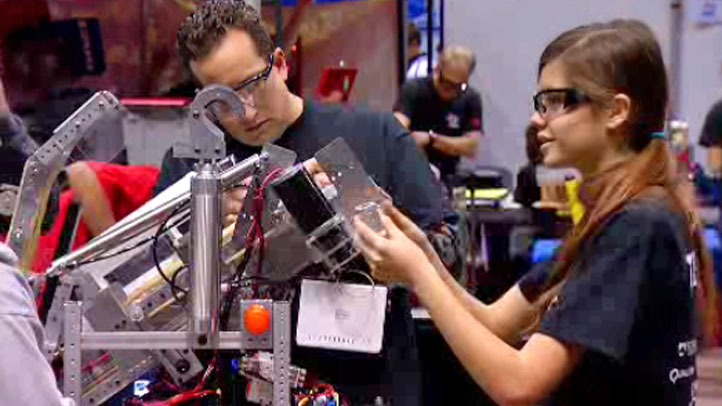 Teams have had six weeks to design and build robots and have traveled to San Diego to compete against 60 other high schools from around the U.S. and Mexico.
The City of San Diego's "FIRST Robotics Days" takes place through the weekend at the Valley View Casino Center (formerly the San Diego Sports Arena) and admission is free.
This year's task is called "Ultimate Ascent." Teams must build a robot capable of throwing Frisbees and climbing a pyramid.
More than 1500 teenagers are expected to compete in the 3-day event.
The Madison High School team has returned to the San Diego regional competition. They developed a robot that uses a conveyer system to pick up thee Frisbees. Then, a high-speed wheel shoots the Frisbee out.
"[It takes] a lot of team work, a lot of knowledge on how to do the thing and parts," said Joseph Randazzo.
Spending a lot of time building the robot pulls the team together. "It's more like a family than a team because we spend so much time together," said Maureen Clark.
The Bagel Bytes from Culver City decided to push their robot to do more than the task at hand. They are hoping their robot will not only climb the pyramid and shoot the Frisbees but will also aim them at goals.
Most of the Bagel Bytes are girls – a point of pride for team member Arielle Singer. She was more than enthusiastic about the program.
"Robotics is my life," Arielle Singer told NBC 7 San Diego. "It's an amazing experience to have."
In the end, organizers hope the competition will be more than team-building or exciting for these intelligent teenagers.
"This is our future work force. These are the kids we're really trying to get inspired to go on to college and study these fields," said David Berggren FIRST Regional Director for Southern California
"They're using their minds to break down and solve really technical problems."
If you want to check out the competition, admission is free.