When a Ramona family got up for work Tuesday they quickly realized they were in a rocky situation. A huge boulder, loosened by a powerful storm, had slid and fallen onto their driveway, blocking access to the road.
Soon, homeowner Adriana Soltero and her cousin, Gaby Nace, knew they weren't going to make it into the office. The family lives on Cloudy Moon Drive, on a mountain known as Rock Haven, which is covered in boulders.
"The name says it all," Soltero said, adding that she's always been concerned about the possibility of a boulder tumbling during a downpour in her neighborhood.
She and her family have lived there for 15 years but up until Tuesday, they had never experienced anything like the sight of a giant boulder blocking their driveway.
"It's enormous," Soltero told NBC 7.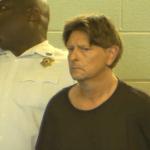 Soltero said the storm caused a mudslide, which then knocked the boulder loose, sending it tumbling onto their driveway. With it came a large amount of mud and trees that were also pulled out of the ground by the mudslide.
"Everything gave way," Soltero said, describing the mess created on their property by the storm.
Nace was the one who came across the boulder first, as she prepared to leave the house for her morning commute to work in Torrey Pines.
Nace said she was shocked to see the boulder covering the driveway.
"I thought, 'I guess today's not going to be a work day,'" she said. "We were stuck here."
Each family member had to call out of work for the day. The family called Caltrans to ask for help removing the boulder.
When they realized help wasn't coming fast enough, Soltero said her husband and their neighbors rolled up their sleeves and got to work at home. They shoveled mud and tied ropes around fallen trees, moving them just enough to allow their cars to come in and out of the driveway.
As of Wednesday night, the boulder had not yet been removed.
Nace said her main concern is that it will rain again before the boulder is removed, causing even more damage.
"If there's another storm – what else is going to happen?" she wondered.
Caltrans San Diego crews have been very busy this week cleaning up the aftermath of Monday's storm including flooded areas, fallen trees and other loose boulders blocking roadways.
On Wednesday, Caltrans worked to clear boulders blocking State Route 78 at Bandy Canyon Road in Ramona. They drilled holes inside the huge boulders and detonated explosives inside in an effort to break up the boulders into smaller pieces so they could be moved out of the way. The highway was closed all day Wednesday but had reopened by Thursday morning.
NBC 7 spoke with Caltrans on Thursday and the agency said the boulder on Cloudy Moon Drive will be dealt with by the County of San Diego.
County officials told NBC 7 they will be sending a crew to the property to assess the boulder and figure out what the next steps will be.