Ten people were arrested, police said, when a large group of demonstrators marched through downtown San Diego Monday to protest the Trump Administration's "zero-tolerance" immigration policy that has separated thousands of migrant children from their families.
Hundreds began to gather in the park under Coronado Bay Bridge at about 9 a.m. Monday with signs that read "Free Our Future" and called to abolish Immigration and Customs Enforcement (ICE).

The rally, organized by the grassroots organization Mijente, comes on the heels of six planned rallies in San Diego County and hundreds of demonstrations across the United States on Saturday.
Just before noon, the group made their way to downtown's Edward J. Schwartz Federal Building on Front Street, the home of U.S. District Court, and about a dozen protesters locked arms and blocked the entrance to the building as San Diego police officers looked on.
It appeared a few protesters were repelling down the Westin San Diego in Gaslamp Quarter in an attempt to hang a large banner from the hotel, an NBC 7 news crew said.
SDPD said the ten people arrested were all booked on felony charges.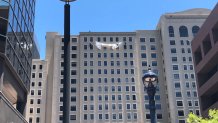 Organizers say they are protesting the administration's policy that has increased prosecutions and convictions of migrants and has led to the separation of about 2,000 children from their families at the U.S.-Mexico border since May.

San Diego U.S. District Court Judge Dana Sabraw ruled last Tuesday that immigration authorities must stop separating migrant children and must reunite families within 30 days, sooner if the child is younger than 5.
President Donald Trump had signed an order ending the separation of families but the order was followed by days of uncertainty and conflicting information as to when migrant children might see their family again.
The Trump Administration has argued that Sabraw's order gives them no choice but to hold families for prosecution longer than the current 20-day limit set by what has been known as the Flores Agreement, NBC News reported.
Trump took to Twitter on Saturday morning to show his support for Immigration and Customs Enforcement (ICE) amid calls from some Democrats for major changes to immigration enforcement.
Tweeting from New Jersey, Trump said that Democrats "are making a strong push to abolish ICE, one of the smartest, toughest and most spirited law enforcement groups of men and women that I have ever seen." He urged ICE agents to "not worry or lose your spirit."
Monday's protest follows two weekends of demonstrations organized under the banner "Families Belong Together." On Saturday, six separate rallies were held across the county.