A pursuit throughout San Diego's South Bay came to an end Thursday afternoon after a big rig helped authorities trap the vehicle in question on the sidewalk.
The chase began sometime around 12 p.m. Thursday when Chula Vista police were notified of a person brandishing a gun at someone. That individual was linked to a minivan that officers later spotted and attempted to pull over.
The driver of a minivan refused to yield to police and traveled on Interstate 805 and on surface streets. Authorities said the slow-speed driver led authorities on a chase for nearly two hours.
San Diego County
More on what's happening in our region.
Aerial footage from SkyRanger 7 showed the minivan weaving through traffic in an attempt to evade officers and drive through shopping plaza parking lots to attempt to get them off their tail.
The slow-speed pursuit came to an end at about 1:45 p.m. when the driver, chased by at least a dozen police cruisers, went through a couple of parking lots in a desperate attempt to escape. As the driver approached the street from a parking lot, a big rig blocked their access to the road.
Ambitious to flee, the minivan drove on a sidewalk that was then blocked by an undercover police cruiser. Surrounded by the big rig and cruiser with nowhere else to turn on the sidewalk, the driver stopped the vehicle as officers approached.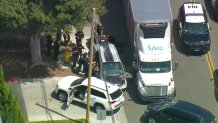 At least one person was seen being taken into custody at the scene on the 330 block of Moss Street in National City.
Details on what led up to the pursuit were not immediately clear. It is unclear what, if any, charges the driver of the minivan may face.
Police have not released details on the driver, such as his or her name, age and sex.