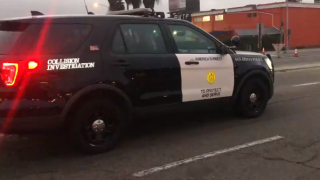 A 33-year-old man was killed Wednesday morning when he was struck by a car in Midway District while crossing the street.
Authorities announced the fatality shortly after 6:30 a.m. and said a pedestrian was struck by a vehicle around the 4100 block of Sports Arena Boulevard.
There, officers learned the man was crossing the roadway in a westbound direction mid-block. Around the same time, a Toyota Prius driven by a 54-year-old man was traveling southbound on the first lane.
The Prius struck the pedestrian, who later died at an area hospital.
Video footage of the scene showed officers blocking off a portion of Sports Arena Boulevard for the investigation. San Diego police said traffic would be diverted. Motorists were encouraged to seek an alternate route.
Details on what led up to the crash were not immediately clear. The victim's name has not been released.
The investigation is ongoing.