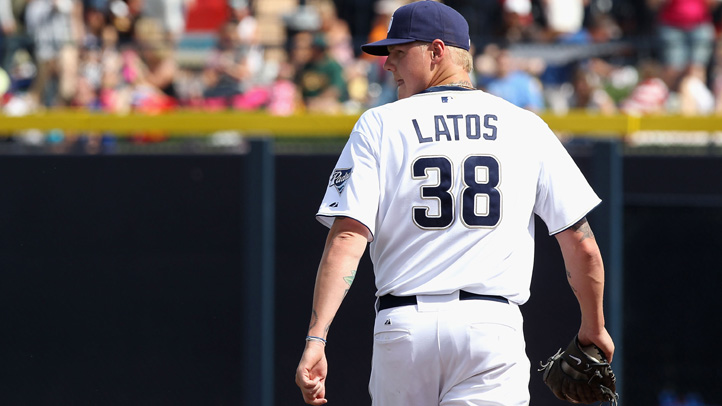 Mat Latos snapped a personal 10-game losing streak and Ryan Ludwick homered in the San Diego Padres' 8-2 win over the slumping Colorado Rockies on Sunday.
Latos (1-5) hadn't won since Sept. 7, 2010, and his 10 straight losing decisions were one shy of the club record set by right-hander Gary Ross in 1969.
Padres manager Bud Black said before the game he sensed Latos was about to snap out of his funk, saying part of the problem was how much pressure the 23-year-old right-hander was putting on himself. Latos displayed no such duress in allowing just two runs, one earned, and four hits in 5 2-3 crisp innings.
The last-place Padres took two of three from the Rockies, who have lost nine of 12 games this month and got a scare in the eighth when Carlos Gonzalez was struck by a pitch in his right foot. Gonzalez went down for a minute but walked it off and stayed in the game.
Latos was victimized by poor run support during his streak — the Padres scored more than two runs just twice for him during the 10-game skid. Ludwick, though, gave him all the cushion he'd need when he sent a 91 mph fastball from Jason Hammel (3-3) over the left-center field fence for his sixth homer in the fourth inning. The three-run shot put San Diego ahead 3-1.
The Rockies pulled to 3-2 in the sixth when Todd Helton homered for the second straight day, driving his sixth homer into the Rockies' bullpen in right-center.
The Padres iced it with a five-run seventh that sent much of the crowd scurrying to the exits.
Chase Headley's RBI single with one out chased Hammel, and Will Venable punched lefty Franklin Morales' only pitch for a run-scoring double that made it 5-2 and brought on another struggling Rockies reliever, Felipo Paulino.
Jason Bartlett greeted him with a two-run double that made it 7-2, and Brad Hawpe followed with an RBI single off Paulino.
Hammel allowed six earned runs and six hits in 6 1-3 innings.
Latos issued all three of his walks in the first two innings before settling in and striking out five. He escaped largely unscathed despite walking three of his first eight batters.
The Rockies, who blew a six-run lead Saturday, pushed across a run in the first without getting a hit. Seth Smith and Gonzalez drew one-out walks and Smith scored when second baseman Eric Patterson's double play relay to first base was wild.
Colorado put runners at second and third in the second, but Latos escaped the jam when home plate umpire Jerry Meals rung up Dexter Fowler for strike three on an inside heater.
The Rockies have gone 9-16 since starting out 11-2, largely because of their inept offense. They've lost six straight day games after starting the season 7-1 under the sun and they've lost five of six rubber games. They haven't won a home series since taking a three-game set from the Chicago Cubs a month ago.
Notes: There were five foul-outs in the game. ... The Rockies failed to capitalize on any of San Diego's three errors. ... Padres 2B Orlando Hudson (strained right hamstring) will rejoin the team Tuesday in Phoenix after a rehab assignment at Triple-A Tucson. He's been on the DL since May 4. ... Rockies winless ace Ubaldo Jimenez is tweaking his delivery before his next start, Tuesday against San Francisco. Manager Jim Tracy reiterated that Jimenez's troubles are mechanical and not physical.
Copyright AP - Associated Press