A sea lion sickened in the oil spill near Santa Barbara that was being rescued and cared for by SeaWorld San Diego has died.
The male sea lion was driven to SeaWorld Thursday night to be treated by veterinary staff. The animal was hurt at the Refugio State Beach near Santa Barbara, where a broken oil pipe spilled about 105,000 gallons of oil into the ocean.
The sea lion arrived in critical condition, said Kat Marin with SeaWorld San Diego, and died in the early hours of Saturday morning.
The Rescue Team hydrated the animal, took a blood sample and started to wash the oil off. A necropsy will be performed to determine the cause of death.
Dr. Todd Schmitt, a senior veterinarian at SeaWorld, said the male sea lion had oil covering much of her body and 50 percent of her head.
"When the van arrived, you could actually smell the fumes," Schmitt said. "He was fairly alert and responsive, but you could tell he had a long day."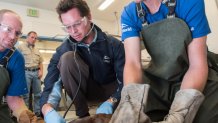 Oil can be damaging to sea lions in that it's irritating to their skin, restricts their ability to thermal regulate and can be toxic if ingested, veterinarians said.
That sea lion was the first sea lion sickened by oil that's come to SeaWorld San Diego. SeaWorld San Diego has since received additional animals sickened by the oil spill and will be caring for them.
Earlier this week, a team from the Oiled Wildlife Care Network set up at SeaWorld San Diego and washed and treated oil-soaked birds.