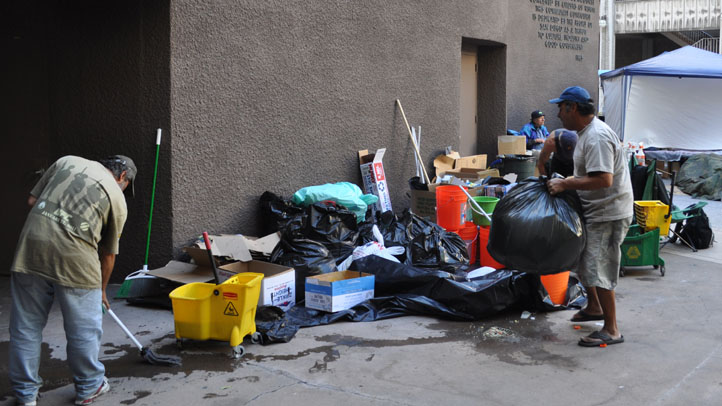 More than 100 tents are neatly arranged in Civic Center Plaza, where Occupy San Diego demonstrators have gathered to protest income disparity. Tidy rows of shoes lay outside tents and trash bags securely fastened to tent poles.
Since the protestors first set up camp in the Plaza on Saturday, the site has transformed into a fully-functioning village, with medics, a kitchen, libraries, a media center – and more recently – a sanitation crew.
"We're very concerned about our image," said Occupy San Diego spokesperson Mike Garcia. "The whole world is watching."
The sanitation crew patrols the plaza with mops, brooms and trash bags. They ensure that all pets are cleaned up after and all "tenants" clean up after themselves. Since the protesters moved in, the sanitation crew has collected over 1,500 pounds of trash, not including recyclables, said Shahrokh Saadatnejad, head volunteer of the sanitation crew.
"If this place gets dirty, police will shut it down," Saadatnejad said.
As of Wednesday, police made no indication of arresting anyone or forcing the occupation out. Throughout the protest, demonstrators and officers have stayed on mostly friendly terms. In comparison with other Occupy movements throughout the country, San Diego's has been relatively peaceful.
And the movement will be more widely embraced if the campsites are clean and can show voters that demonstrations are organized, Garcia said. He hopes that a growth in support will sway political influence in their favor.
"We're not here to be disruptive," Garcia said. "We're here to make a point."
Though the protest has gained a reputation of being a collection of "dirty hippies," Garcia said, many who pass through the plaza are surprised to see how clean the premises are. He hopes this will allow for more dialogue with members of the public who are not involved in the occupation.
Andres Carnahan, a city attorney who works in the plaza, said he noticed the cleanliness, but was still critical of the occupation's image. When asked if the occupation had changed his political views in any way, he said "not yet, but maybe soon."
"I want to see more facts, first," he added.
On Tuesday, a fire marshal prohibited the assembly of additional tents in the plaza for safety reasons. Since then, tent numbers have not increased – but many have left and been replaced. Garcia said this is a loophole that he hopes won't aggravate police officers.
For now, protestors intend to stay until they are convinced they have the support they need.