A house fire was reported in the North Park area on Tuesday afternoon even though the man living in the house told neighbors not to call firefighters.
San Diego Fire-Rescue crews responded to a house fire around 1:10 p.m. on Boundary Street near the I-805 and I-15 junction.
Firefighters were seen providing oxygen and doing CPR on the resident's dog who later died, NBC 7 crews reported. Four other pets were in the home at the time of the fire.
The house was deemed uninhabitable following the fire with an estimated damage of $200,000 to the structure and the contents inside, an SDFD Battlion Chief said.
SDFD Captain Juan Flores said the house had hoarding conditions and there was a lot of debris inside, but the exact cause has not yet been determined.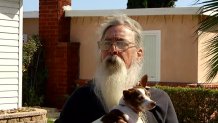 Resident Richard Horseman said he was outside talking to neighbors when another neighbor ran to him and alerted him of the fire.
"I looked down the hallway and I saw a bunch of flames," Horseman said.
They used a fire extinguisher to put the flames out a couple times, but they kept coming back. That's when a neighbor called for firefighters despite Horseman's insistence.
"I told 'em not to phone the fire department, but they did anyway," he said.
No nearby homes were damaged.
The Metro Arson Strike Team (MAST) was called to the scene to investigate, according to SDFD spokesperson Mónica Muñoz.
No other information was available.