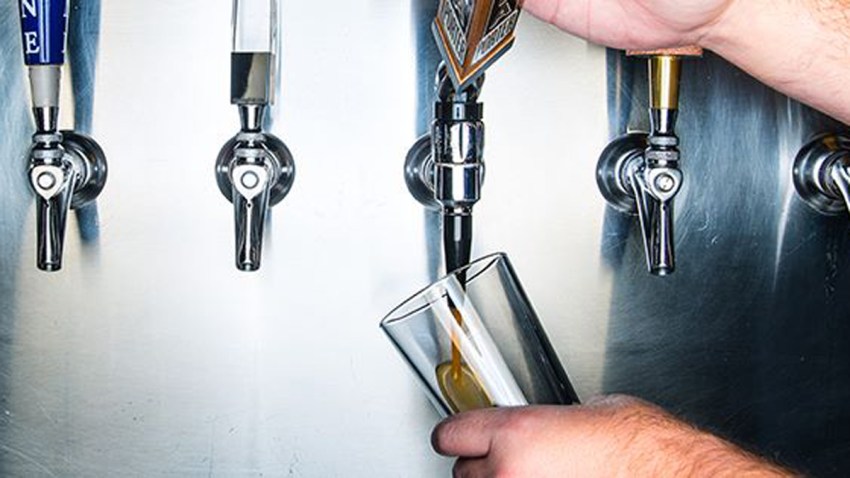 Yard House – a restaurant and bar known for its extensive selection of draft beer – has opened a brand-new, 11,000-square-foot location in Mission Valley, complete with 130 taps.
The company announced Thursday that its second location – this time at Westfield Mission Valley Mall – is now officially open for business. Like its sister location in downtown San Diego, this site offers a vast array of beer on tap, including 40 regional craft options – 20 specifically from local brewers.
The company says San Diego-based brewers claiming a slot on the draft list include: AleSmith Brewing Company; Alpine Beer Company; Ballast Point Brewing Company; Belching Beaver Brewery; Coronado Brewing Company; Green Flash Brewing Company; Groundswell Brewing Company; Modern Times Beer and Pizza Port Brewing Company, among several others.
The new location will also offer the "Chalkboard Series," a selection of limited released from craft brewers that rotates monthly.
The eatery is open daily for lunch, dinner and late-night dining. Happy Hour goes down Monday through Friday from 3 p.m. to 6 p.m., and Sunday through Thursday from 10 p.m. until closing time, with select appetizers from $5, as well as select beer, wine and cocktails.
The new Mission Valley spot features seating for 310 patrons, plus three-dozen more seats around the bar. Décor includes an original collection of art by California artist Jerome Gastaldi, the company says.
Like Yard House locations before this one, classic rock music is central to the vibe, with jams from the 1980s and 1990s filling a 5,000-song playlist that is distinct to the location.
The first Yard House opened in Long Beach, Calif., in 1996 with a noteworthy 250-tap draft beer system. Nearly 20 years later, the company operates 60 restaurants across the U.S., each with its own endless fleet of tap handles.