A woman who regularly cleans up trash along Mission Beach with her young daughter came across a disturbing discovery during one of their excursions: syringes in the sand.
Andrea Kruza, who lives in Mission Beach, said she was especially alarmed this week when, on two separate occasions, she found syringes in the sand.
In an effort to keep her community clean, she and her daughter, Lily, often pick up trash along the sand. She said finding those syringes along their route was scary.
"Now I'm extra, extra cautious," Kruza said. "I can't believe I found two in one week. I find some disturbing things, but nothing to that extent."
Kruza told NBC 7 she found the syringes next to Mission Bay, near Mission Boulevard and Coronado Court. There is a boat dock there where, according to Kruza, people do occasionally fall asleep.
Kruza did not file a police report. She said she took the syringes to the Pacific Beach Fire Station, where people can safely dispose of needles. She snapped a photo of one of the syringes and provided that photo to NBC 7 on Saturday.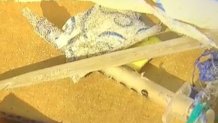 She hopes her story helps warn fellow Mission Beach residents and visitors, and keeps them alert when they're walking on the sand.
Other residents said, despite the findings, the neighborhood still feels safe.
"It shocks me because this is not an area where we would find something like that," said Shari Caircross, a long time Mission Beach resident. "I've never heard of that and I've been at this beach for 58 years."
San Diego does have a history of sharp objects being purposely placed in play areas, particularly in beachside communities. In 2013, 2014 and 2015, razor blades were found scattered around a Mission Bay playground; in some cases, they appeared to have been intentionally planted there.
This discovery of syringes does not appear to be related to those earlier razor blade incidents.