A man who pleaded guilty to being an accomplice in the murder of an off-duty bus driver was sentenced to probation Wednesday by a San Diego judge who said he took a "big risk" to bring the killer to justice.
San Diego County Deputy District Attorney Brian Erickson said Martin Villalpando was initially charged with murder in the deadly 2007 shooting of Damon Green, 38. That charge was ultimately dropped in exchange for Villalpando's cooperation with the investigation and prosecution of the man who pulled the trigger in the case, Santiago Covarrubias.
Instead, Villalpando pleaded guilty to voluntary manslaughter in the case; he faced up to 11 years in prison and wound up walking away with probation.
Judge David Danielsen said he based Villalpando's sentencing on his willingness to cooperate with prosecutors in their fight to bring the actual shooter to justice. In doing so, Judge Danielsen said Villalpando took a "big risk."
Villalpando testified last month in Covarrubias' trial for the murder of Green.
On Tuesday – after what Erickson called "emotional victim impact statements" from the victim's mother, wife and 14-year-old son – Covarrubias was sentenced to 50 years to life in behind bars.
Villalpando's defense attorney, James Fitzpatrick, said his client was pleased with the sentence.
"This has been a very long road," said Fitzpatrick. "My client, he acknowledged and did the right thing. We're happy, the prosecution is happy."
The sentencing of each suspect marks the final chapter in a long case that went cold for many years before investigators linked Covarrubias and Villalpando to the crime.
According to homicide investigators with San Diego Police Department (SDPD), Green was shot several times at around 2:30 a.m. on March 20, 2007, behind a Donuts Plus shop at 4090 El Cajon Blvd. in the Kensington area. He died at a local hospital about an hour after the shooting.
Detectives believe Green and a friend were eating at a taco shop next door to the doughnut shop when Green got into an argument with Villalpando and Covarrubias. The suspects left the taco shop and, about 10 minutes later, as Green and his friend were leaving, the suspects returned, armed with a gun.
Covarrubias and Villalpando confronted Green outside the doughnut shop and Covarrubias opened fire. As Green ran into the doughnut shop seeking cover, detectives said shots were fired through a glass window. The bullets hit Green.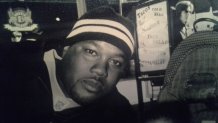 The suspects fled the scene before police officers arrived.
The murder case remained unsolved for more than eight years.
On July 28, 2015, Villalpando was arrested by U.S. Customs and Border Protection Agents at the Otay Mesa Port of Entry in south San Diego as he legally entered the U.S. He was jailed in connection with Green's killing.
After Villalpando's arrest, Tom Manning, Deputy District Attorney Supervisor of the Cold Case Homicide Unit, said cold case detectives had been actively working on this case for years and had been in contact previously with Villalpando regarding Green's murder. Detectives didn't think he was the shooter, but he was the accomplice.
"He knew San Diego police detectives were continuing on the case and were also looking at him over the last few years," Manning said, at the time.
In late November 2015, Covarrubias was charged with murder in the case. He had already been in state prison for about a year, serving an 11-year sentence for voluntary manslaughter in another unrelated homicide – the March 14, 2001, killing of Benjamin Clark.
[G] San Diego's Unsolved Cold Cases
Erickson said Covarrubias' sentence for Green's murder was tacked on in addition to the time he's already serving for Clark's murder. The Deputy DA said both slayings were committed "under similar circumstances."
For Green's mother, Sybil Green, the 2015 arrest and charges of the men suspected in the cold case murder of her son brought a wave of emotions.
In a heart-wrenching interview with NBC 7 at that time, Sybil said the day her son was killed was the day her "heart died." Despite the passing of time, her family continues to feel the pain of the sudden, violent loss of her son, whom she referred to as her "gentle giant."
"You murder one person, but you slaughter a family because our family has not been the same since," Sybil said.
Green's family now lives in Las Vegas. Sybil said she has always refused to believe her son's killer would get away with murder, and she has always sought justice for Green.
The victim is survived by his mother, wife, two sons and a daughter.