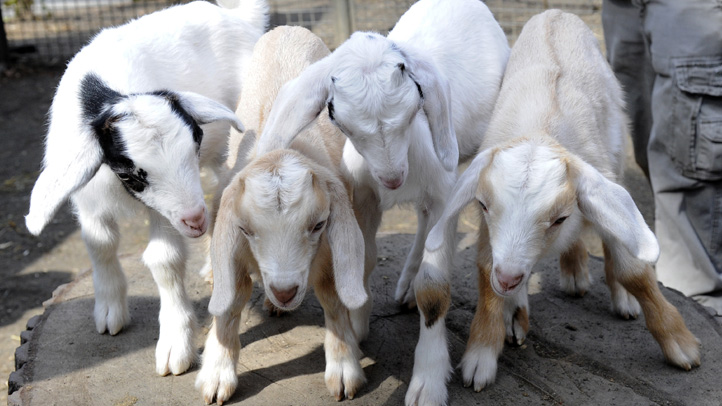 San Diego County Crime Stoppers and the Sheriff's Department are offering a $3,000 reward for information leading to the arrest of a man who allegedly duct taped two goats, causing one to die, on Wednesday at Fallbrook High School.
An unknown male entered the agricultural area of the high school and duct taped the snouts and legs of two goats at about 5 a.m. said police.
The man was described as being 5'11" tall, 180 lbs and wearing a dark colored sweatshirt with the hood over his head and dark pants.
A security guard spotted the suspect in the livestock pen, which held two Tennessee Fainting goats, and shined a flashlight on the man at which point the suspect fled on foot, according to a media release.
The guard then saw the two goats and removed the duct tape from both, but found one of the goats had already died, said police.
A necropsy performed on the animal deteremined suffocation as the cause of death.
Police think that because it was the last day of school the incident might have been a senior prank gone wrong.
Anyone with information on the identity and or location of the person responsible for this crime should call San Diego County Sheriff's Detective Jim Pucillo at (760) 451-3100 or the Crime Stoppers anonymous tip line at (888) 580-8477.