A judge set bail at $3 million for a San Diego man accused of randomly shooting and killing a U.S. Navy pilot outside a popular comedy club last weekend.
Arrow Morris, 39, pleaded not guilty to first-degree murder in the death of 43-year-old James Celani at San Diego's Horton Plaza mall over the weekend. Morris was also charged with one count of attempted murder, robbery, dissuading a witness and violation of parole and pleaded not guilty.
At his arraignment, a judge ordered the press to cover Morris' face.
"Unprovoked, the defendant shot him three times," said San Diego Deputy District Attorney Amy Maund. "Two times in the head and one time in the chest. His friend was also there and the bullet grazed his leg."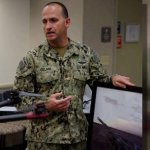 SDPD Homicide Investigators say Morris was outside the Mad House Comedy Club on Saturday evening just before midnight.
Morris was arguing with a woman outside the club before the shooting took place.
During that argument, police said, he took her purse and walked away from the club.
As he walked away from the club, he bumped into the victims: Celani and his cousin.
Without provocation, he shot both victims, police said.
Celani was shot in his chest and taken to UC San Diego Medical Center. Despite life-saving measures, he was pronounced dead at the hospital.
He was a Navy pilot who later worked with drone technology. As part of Naval Special Warfare, Celani supported Navy SEAL teams working tactical operations.
Vivian Corr, Celani's family friend, said she hopes Celani is in a better place with his mom, who died from cancer.
"She's cradling him up there and saying, 'It's okay. We're together and there are no bad feelings up there, everything is about forgiveness.' So, I like to dwell on that," Corr said.

The second victim, a 29-year-old Riverside resident, was shot in the leg. He is expected to survive.
Homicide detectives found Morris in Serra Mesa at approximately 6 p.m. on Monday, police said. He was arrested in public.
Morris has a lengthy criminal history. He has been in and out of jail four times in the past 20 years.
If convicted, he faces life in prison.
A second suspect remains on the loose. Police have identified the man, but detectives are working to determine how, exactly, he was involved in the shooting.
He has not been arrested, and police will not release his identity.
Anyone with information regarding this incident is asked to call the Homicide Unit at (619) 531-2293 or Crime Stoppers at (888) 580-8477.