School officials in El Cajon requested assistance from law enforcement on Monday after a lunchtime dress-code protest at Grossmont High School.
A spokesman for the Grossmont Union High School District said that students refused to return to class and that the situation escalated, with students throwing apples and water bottles.
"To calm the situation and keep students safe, a 'secure campus' was called, and a law enforcement response was required," school district public information officer PIO Collin McGlashen tweeted. "Law enforcement remains on campus to ensure an orderly return to class so the school day can continue."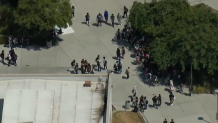 Sky Ranger 7 arrived over the scene shortly before 1 p.m. but was unable to find any sort of standoff between police and students. One person, however, was seen on a gurney apparently being taken for some sort of medical treatment. Shortly after 5 p.m., NBC 7 was informed by the district that the patient was undergoing an asthma-related event.
Nearly a dozen police cars were spotted parked by the entrance to the school when Sky Ranger 7 was overhead, and groups of students were seen walking around the the campus. Later in the day, a district official told NBC 7 that four students were detained and released.
About 1:20 p.m. a group of what appeared to be 20-30 protesters with a large banner was seen marching to the school's entrance.
Some students at the school are demanding an end to the dress code at the high school -- where outdoor temperatures hovered above 90 degrees on Monday -- after posting a petition to Change.org.
"Grossmont High School has just released an email to all parents and students regarding updates and reminders on our dress code," the creator of the petition posted. "This email seems to have caused an uproar in the student body, and rightfully so. I asked many of my fellow students via social media, and it seems as though our thoughts on the matter are unanimous."
The petitioner adds: "I am going to show my legs, I am going to show my shoulders, I am going to show my stomach. Not only because it is extremely hot outside, but there is nothing wrong with those parts of my body. Nor is there anything wrong with yours. It's not distracting any other students, and if it is we should teach our students not to sexualize and objectify each other."
Late on Monday afternoon, NBC 7 confirmed the contents of the dress code, which can be seen below:
Grossmont High School DRESS CODE
Students are expected . . . to maintain a safe environment in the school.
In an effort to improve the atmosphere for learning in the Grossmont Union High School District, students will dress in a manner that reflects positively on themselves, their parents and their school. Just as adults must conform to workplace standards, so must students.
Clothing may not be over-sized or form-fitting, including extra long shirts. All clothing must have sleeves. Footwear must be worn at all times. 
Headgear: appropriate hats, bandanas, sweatbands, etc . . . may be worn on campus outside of instructional time (outside of classroom). To ensure the educational process is not disrupted in the classroom, HATS AND HOODIES and/or headgear that covers students' eyes and/or ears may not be worn in the classroom unless allowed by the teacher. Other head coverings connected to specific religious practice are allowed.
Unacceptable dress includes the following; (not all unacceptable clothing is listed).
Sleeveless garments.
Pants must have finished edges and fitted at the waist and crotch. They may not be low cut.
Sagging pants are not allowed. Pants must to be able to stay up without a belt and may not drag on the ground.
Shirts must be long enough to be able to be tucked in.
Over-sizing or form fitting of any kind is not permitted.
No jerseys except GHS athletic jerseys are allowed.
Clothing with underwear showing.
Spaghetti straps/strapless/single-sleeve/off shoulder/halter/tube shirts or dresses.
Muscle tank shirts or underwear shirts.
Excessively low-cut garments (no cleavage showing).
Hoods must be worn down except when outside in rainy weather.
Backless or racer-back shirts (shirts that do not cover the back entirely).
Bare midriff (stomach) may not be exposed (tops must be long enough to tuck in but not exceed 4" past the waist)
Slippers and pajamas.
Micro-mini skirts, dresses, and short shorts.
Garments displaying logos of racist groups or gangs, obscene language, vulgar gestures, racist, ethnic or sexual slurs or symbols of hate, prejudice, intolerance or discrimination on any clothing, jewelry, or belts.
Wearing apparel or accessories advertising alcohol, tobacco, drugs (including mushrooms), death and violence (skulls, guns) or sex-related, like "Playboy" or "Hustler"
Wallet or waist chains.
Spiked jewelry.
Athletic or club spirit phrases with an inappropriate double entendre—teams and clubs are asked to get assistant principal approval prior to making spirit shirts.
Consequences:
Consequences range from a change of clothing provided by the school to suspension. In extreme cases a parent will be called to bring a change of clothing. The student will be expected to make an exchange for the inappropriate clothing after school. Continuous defiance of the dress code may result in after-school detention to suspension. At no time is the school responsible for the confiscated items. Items not picked up by the end of the semester will be donated to a non-profit organization.
The dress code is a dynamic document. Changes may be made at any time during the school year.
Discretion may be used to determine appropriate attire for the classroom by the administration. Students and parents will be notified of any changes through the school bulletin.
As for the student on the stretcher, it was not for an injury, rather medics were tending to a person who was suffering an asthma related event.