An El Cajon man was the unintended victim of an ongoing gang feud, law enforcement authorities said Monday.
Xusha Brown, Jr. 22, was shot in the head while his friend was driving on Interstate 8 early in the morning on May 6, 2013.
"Mr. Brown, who was not a gang member, was an unintended victim of the gang feud," said La Mesa Police Chief Walt Vasquez.
Officials believe a vehicle pulled alongside the victims' vehicle and fired multiple shots at the victims.
After a two-year investigation, and dozens of search warrants, prosecutors are preparing to file first degree murder charges against three men.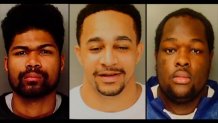 Search warrants were served Wednesday in Humboldt County, California as well as Las Vegas, Nevada and Phoenix, Arizona.
In Phoenix, Donte Jerome Haddock, 25, was arrested. He is currently in custody, pending extradition to San Diego. He faces 105 years to life in prison if convicted.
Two other men are in custody on different charges.
Alaeante Akila Eason, 26, was in custody in San Diego and pending charges of pandering and human trafficking of a minor. He will be arraigned Monday afternoon in Dept 12. He faces 65 years to life in addition to the other criminal charges he's facing.
Anthony Constantine Frank, 25, is currently serving a 20 year sentence for the murder of a rival gang member in San Diego, according to San Diego County District Attorney Bonnie Dumanis. He faces a sentence of 65 years to life in addition to the 20 years he's serving if convicted of Brown's killing.
Just last month, relatives of Brown and members of the Sycuan Band of the Kumeyaay Nation, gathered to unveil highway signs in his memory.
On Monday, Brown's parents stood with law enforcement authorities as they announced the arrests.
"It's been a long fight, struggle for myself, losing my firstborn son and my best friend," Xusha Brown, Sr. said. "Now I can finally have a little closure to what I've been going through."
Brown's mother, Deborah Flores, told NBC 7 in a previous interview that she wanted justice for her son's life.

"Somebody that night made a choice to change our lives forever and our lives will never be the same again," she said in 2013. "And now we're trying to pick up the pieces."
A $100,000 reward was offered for information leading to an arrest in the case.
The 21-year-old driver was shot in the shoulder and later recovered from his injuries.
Prosecutors believe the gang feud that led to Brown's death was also responsible for the death of Darris Walker in 2011. Walker was found shot in the parking lot behind the Marie Callendar's Restaurant on Alvarado Road.
Another double fatal shooting in June 2014 on Siena Street in the Skyline area of San Diego may also be tied to the gang feud, according to prosecutors.