No San Diego-bred plays or musicals won big at the 72nd Annual Tony Awards on Sunday -- but one lighting designer working on a La Jolla Playhouse play earned an award.
Tyler Micoleau, who created the lighting design for "The Band's Visit," earned a Tony Award for his work. "The Band's Visit" swept the Tony Awards on Sunday, taking home 10 awards, including Best Musical, Best Book, Best Director and Best Score.
Micoleau is the lighting designer for "The Squirrels" at La Jolla Playhouse, running now until July 8.
Congratulations to Tyler Micoleau, #TonyAward Winner for Best #LightingDesign of a Musical for THE BAND'S VISIT! Tyler is the #LightingDesigner for our currently-running show, THE SQUIRRELS! pic.twitter.com/hgs7NwWwTD

— La Jolla Playhouse (@ljplayhouse) June 11, 2018
John Leguizamo, who launched his show "Latin History for Morons" at La Jolla Playhouse several years ago, was recognized for his work in theatre with a Special Tony Award. The show will go on tour this fall.
Several other San Diego-connected professionals also won Tony Awards. Justin Peck, for instance, was raised in America's Finest City. He took home the Tony for Best Choreography in "Carousel." Itamar Moses, who has written several plays for The Old Globe, took him Best Book for writing "The Band's Visit."
The Tony Awards wrap up a blockbuster 12 months for La Jolla Playhouse on Broadway: Six La Jolla Playhouse-bred shows landed on Broadway within a 12-month period, and that's not counting the two Off-Broadway shows connected to the Playhouse. The theater may just be the most represented regional theater on Broadway at the moment.
Several of those La Jolla Playhouse pieces and Old Globe-connected works were nominated for Tony Awards.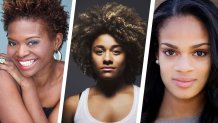 "SUMMER: The Donna Summer Musical," John Leguizamo's "Latin History for Morons" and "JUNK," which all premiered at the prestigious regional theater in recent seasons, scored several nominations for one of theater's most prestigious awards.
The Donna Summer musical, which first premiered at the Playhouse to a sold-out, extended run last fall, earned nominations for stars LaChanze (Best Leading Actress in a Musical) and Ariana DeBoise (Best Featured Actress in a Musical). Both lost the award to actresses in "The Band's Visit" and "Carousel," respectively.
The musical did bring down the house, though, with a performance of one of the Disco Queen's biggest hits.
Ayad Akhtar's "JUNK" and John Leguizamo's "Latin History for Morons," which both premiered at the Playhouse during the 2016-2017 season, earned nominations for Best Play. They lost to "Harry Potter and the Cursed Child," a two-part play that swept its categories.
The lighting designer for "JUNK," Ben Stanton, scored a nomination for his work lighting the piece. He lost to "Harry Potter and the Cursed Child."
The Old Globe-connected productions also earned nominations.
Amy Schumer was nominated for Best Lead Actress in a Play for Steve Martin's Meteor Shower, which first premiered at The Old Globe in 2016.
Gregg Barnes, Globe Associate Artist, also earned a nomination for his costumes in the hit musical Mean Girls, which earned a total of 12 nominations.
Both Barnes and Schumer did not win their respective Tony Awards.