Police are looking for a driver of a boat who hit a Jet Ski in Ski Beach and injured a man who is now at the hospital, San Diego Police said.
The incident was reported at around 6:30 p.m. on Saturday. The victim is in his early 20s was transferred to a local hospital, SDPD said.
"I was kind of watching him (driver of the boat) before he even hit him (victim), and I told my friend, 'Look, look he's not even watching,'" said Nassar Iraniha, witness to the crash. "Because the boat was a bit high I don't even think he saw him."
Police said the boat took off after hitting the Jet Ski. Police said at least two people were on the boat.
"He (driver of the boat) waited two to three minutes and he just took off," Iraniha said. He managed to take a picture of the boat as it drove away.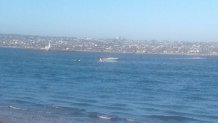 Police say the victim was on a Jet Ski with another family member when he was hit. That family member managed to pull the victim to shore.
The extent of the victim's injuries was not released.
No other information was available.
Please refresh this page for updates on this story. Details may change as more information becomes available.