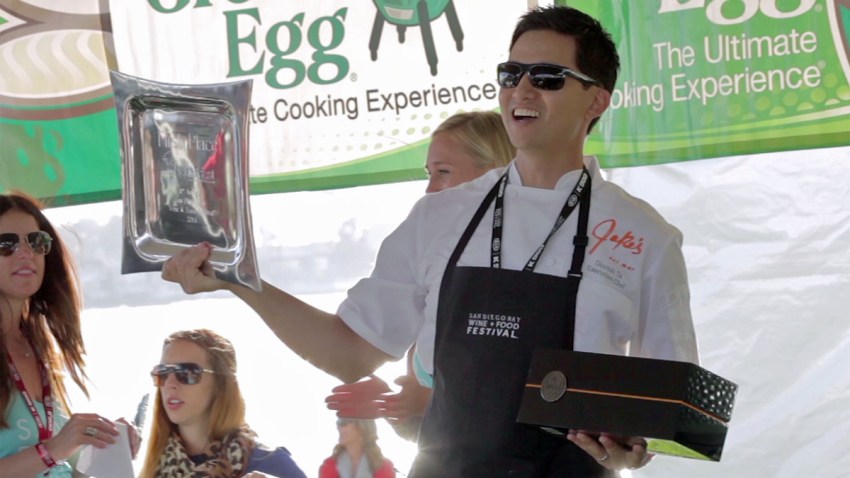 San Diego's top chefs sliced, simmered and sautéed Saturday for the chance to be named "Chef of the Fest" at the 11th annual San Diego Bay Wine & Food Festival.
In the end, Chef Duvinh Ta of Jake's Del Mar beat out 35 cooking competitors to win the coveted title.
His culinary creation – dry rubbed pork ribs with sambal BBQ sauce and watermelon radish and zucchini slaw – wooed a panel of celebrity judges, which included Executive Chef of Culinary Operations at SeaWorld Axel Dirolf and RJ Cooper, owner of the innovative and ultra-modern Rogue 24 in Washington, D.C.
The judges evaluated each dish based on presentation, flavor, innovation, quality of product and preparation in the allotted time. The panel did not know which chef created which entrée.
Chef Ta, a San Diego native, went to college to be an aerospace engineer before following his culinary calling. He started cooking with fresh seafood and local ingredients at Jake's Del Mar in 2005 and was promoted to executive chef in 2013.
Ta received a bounty of prizes for his win, including features in "Cooking Light" and "Dining Out" magazines, swag from Big Green Egg and Calphalon and more.
Festival attendees cast votes via text message for the People's Choice Award. Chef James Montejano of the Med at La Valencia Hotel won over the crowd with his seafood trilogy: Opah prosciutto, seared kajiki, sake, plum sauce, coconut foam and uni crème brulee.
Chef Rich Sweeney of R-Gang Eatery in Hillcrest took top honors at last year's event.
This year's festival attracted 5,000 foodies and wine aficionados to the Embarcadero, and we can't wait to see what's on tap for next year. Mark your calendars for Nov. 15-22, 2015.
Complete List of Winners from the 2014 San Diego Bay Wine & Food Festival
1st Place
Duvinh Ta – Jake's Del Mar
Dry Rubbed Pork Ribs | Sambal BBQ Sauce | Watermelon Radish | Zucchini Slaw
2nd Place
Todd Nash – Bub's At The Ballpark
House-Smoked Pork Collar BLT: House-Smoked Pork Collar Bacon| Tomato Jam | Frisée | Quail Egg | Kewpie Mayo | Sweet Role
3rd Place
Alex Carballo – URBN Coal Fired Pizza
Pork Rojo Street Tacos: Pork Braised in Ancho Chili Sauce | Cilantro Slaw | Avocado Crema
4th Place
Chef Kappa – Bang Bang
Tuna Tartare Tacos: Crispy Wonton Shells | Garlic Ginger Ponzu | Marinated Tuna Tartare | Guacamole Espuma | Micro Cilantro
5th Place
Aron Schwartz – Marina Kitchen
Roasted Butternut Squash Soup | Smoked Brisket
Honorable Mention
Tomas Baistrocchi – Avant
Uni Panna Cotta | Cauliflower | Lardo
Honorable Mention
Brandon Fortune – Kitchen 1540
Chicken n' Dumplings
Honorable Mention
Jon Sloan / Richard Blais – Juniper & Ivy
Sunchoke Bark | Uni | Matsutake | Smoke
Honorable Mention
James Montejano – La Valencia Hotel
Seafood Trilogy: Opah Prosciutto | Seared Kajiki | Sake | Plum Sauce | Coconut Foam | Uni Crème Brulee (Also People's Choice Award Winner)
Honorable Mention
Abe Botello – West Coast Tavern
Pork Belly & Waffles: Bourbon Smoked Maple Syrup | Garlic Butter & Bacon
Vegetarian/Raw Category
Francesca Penoncelli – BiCE Ristorante
Piava Cheese | Delicate Chestnut Honey Tempura | Tomato Jam
Meat Category
Todd Nash – Bub's At The Ballpark
House-Smoked Pork Collar BLT: House-Smoked Pork Collar Bacon | Tomato Jam | Frisée | Quail Egg | Kewpie Mayo | Sweet Role
Poultry Category
Brandon Fortune – Kitchen 1540
Chicken n' Dumplings
Seafood Category
Chef Kappa – Bang Bang
Tuna Tartare Tacos: Crispy Wonton Shells | Garlic Ginger Ponzu | Marinated Tuna Tartare | Guacamole Espuma | Micro Cilantro
Dessert Category
Derek Jaeger– The Cravory
Persian inspired Cookies and Cream: Saffron Vanilla Ice Cream | Ginger Oil | Honey Pistachio Cookie | Pistachio Brittle, Fleur de Sel