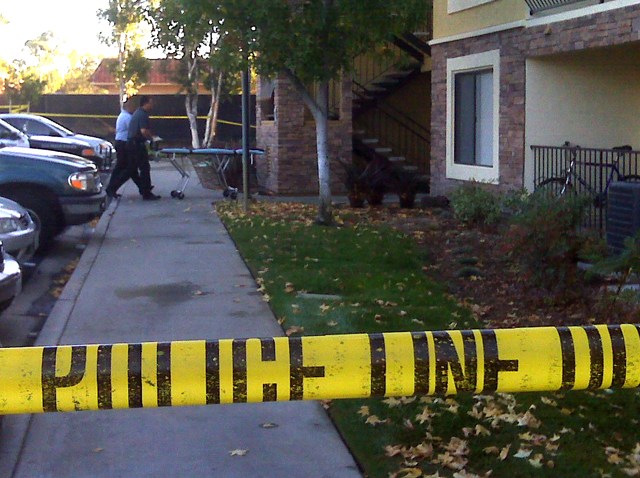 As a woman lay with multiple stab wounds inside her Rancho Bernardo apartment, San Diego police officers say it took more than an hour to provide backup in order to enter the home.
Jennifer Lee Jones was attacked while walking into her unit at the Overlook Apartments on Avenida Venusto on Oct. 22.
At the time of the attack, at 3:17 p.m., Jones was on her cell phone with her mother who lives in Ohio. The mother heard a man's voice, sounds of a struggle and a scream, according to police. Her mom immediately knew something horrible had happened. She initially tried to contact her daughter and called friends and then called 911, police said.
Here is the timeline of events according to San Diego police Capt. Jim Collins.
A call came to dispatchers at 4:44pm.
Two minutes later, at 4:46 p.m. the call went out to Northeastern Division officers, but came back to the dispatcher NUA or No Units Available.
At 4:52 p.m. an officer was located and officer arrived at the overlook apartment complex a minute later.
At 5:01 p.m., the officer surveyed the scene while waiting for backup, noticed the apartment door was shut and that there was no sign of blood or struggle.
Minutes later he notified dispatch and left the scene. Captain Collins said the officer should have investigated further. "Obviously in hindsight, it would have been better for him to pursue it,"Collins told NBC 7/39.
Dispatch then called the family back to relay the message. At that time Jones' father pleaded for police to go inside knowing something was wrong.
Dispatch called the officer back and he returned to the apartment at 5:20 p.m..
That officer got a key from the apartment manager and made entry into the unit at 5:47 p.m. and discovered Jones dead.
A second officer arrived at 5:48 p.m. - more than one hour after that inital 911 call.
Some Rancho Bernardo residents were outraged by what they call a lack of police response.
"We have to expect this unless we're willing to pay more to hire more police,"said Andrea Chandler.
But a family spokeman said Jennifer's parents feel differently about the police response. "They've walked this path with the Jones' every step of the way and we don't have anything negative to say about them at all,"said Ken Chernish.
Jones' next-door neighbor, Richard Saldivar was arrested and arraigned on murder charges Tuesday. He pleaded not guilty.
Saldivar, who lived right across from Jones, saw her coming home before the attack and ran inside to get his knife, according to prosecutors.
He lived with his wife and children and had been given an eviction notice the day of the attack. Some neighbors who didn't want to be identified said Saldivar was a very noisy neighbor, who often played loud music with his front door wide open.
Prosecutors wouldn't reveal a motive at the arraignment but said the victim's mother gave information to police that eventually led to Saldivar.