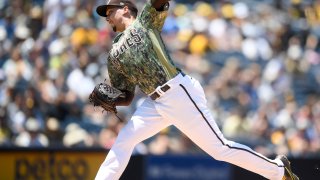 The Padres didn't add any starting pitchers at the trade deadline, but as it turns out, they might have gotten a new ace anyways.
It just took him a while to show up.
Over his first 19 starts in a Padres uniform, Blake Snell was mostly not very good. An earned run average over 5.00, he didn't make it out of the 5th inning in more than half his starts. Things looked a lot better last week in Oakland. Then on Sunday against the Diamondbacks, the real Blake Snell finally showed up thanks to a revamped approach to his pitches.
"I've switched some things up to make them more consistent and be more on top of them to make them play a lot better," says Snell. "That's been helping. I'm just starting to feel stronger again and feel more like myself."
Snell usually relies on a 4-pitch mix, but in 2021 his changeup has been extremely hittable. So, against Arizona he scrapped it (and the curve ball), throwing almost exclusively fastballs and sliders in arguably his best outing since winning the 2018 Cy Young Award. He went 7.0 shutout innings with 13 strikeouts.
Snell was also working a lot faster than he usually does. Sunday's game took just 2:43. It was the third time (in 21 starts) that a game Snell started lasted less than three hours, and one of the other two was a 7-inning affair. There are a couple of reasons for the increased pace. One is Snell says he likes it when he has a quicker pace on the mound. The other is Manny Machado's trash talk.
"Manny was saying that I work slow so I can't listen to that no more," says Snell. "We need quick games, quick wins. I don't need Manny telling me I'm slow. But, when I'm in my zone usually I do pitch pretty quickly."
It also helped to let his defense do some work. In the first inning Tommy Pham made a Peter Parker-esque leaping catch against the wall down the left field foul line to retire Ketel Marte. One inning later, shortstop Jake Cronenworth did an admirable Fernando Tatis Jr. impersonation, going deep into the hole and grabbing a ball that was behind him, getting up and making a one-hop throw to 1st for the out. Those kinds of efforts give a pitcher a heck of a mental edge.
"I think plays like that allow the pitchers to almost settle in and get going," says manager Jayce Tingler. "Blake was good from pitch one but I just love the way everybody contributed."
Snell had a great seat for the defensive mastery and was quick to share his appreciation.
"I mean I felt good but being able to have plays like that and guys that can do that … that was pretty cool."
Yet another factor in Snell's resurgence is the guy calling the signs. Austin Nola has missed most of the season with injuries. Since returning he's caught Snell four times. Blake's ERA has dropped almost half a run over those four starts.
"It's been nice having Nola behind the plate. We're starting to really figure each other out really well so it's been a lot of fun having him back there and work with him knowing I'm gonna have him every start so that's been fun."
Snell says his confidence is high and when he's got everything squared away upstairs he's a very dangerous man with a baseball in his hands.
"Now it's continuing to do this, continuing to attack, be aggressive, and have that anger behind every pitch."
Inserting this version of Blake Snell, the one the Padres thought they were getting when they traded for him last December, is better than any trade they could have made at the end of July.
LISTEN: With NBC 7 San Diego's Darnay Tripp and Derek Togerson behind the mic, On Friar will cover all things San Diego Padres. Interviews, analysis, behind-the-scenes...the ups, downs, and everything in between. Tap here to find On Friar wherever you listen to podcasts.