In a true miracle on the highway, three people came out practically unscathed Saturday when a big rig crashed into a small car on Interstate 805, taking the car with it as the big rig plowed into a center median.
Firefighters rushed to northbound I-805 at Murray Ridge in Serra Mesa just after 11 a.m. to help those involved in the crash: the driver in the semi-truck and two women inside the small car.
California Highway Patrol (CHP) Sgt. Brent Lowery said the semi-truck lost a tire while on the freeway, causing the driver to swerve to the left. As the driver swerved, he didn't realize there was a car next to him. The driver ran into the car and then crashed into the median, taking the car along with it.
Somehow, although the small car was pinned against the wall, the women inside survived.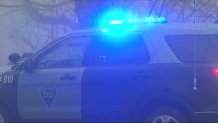 "They lucked out, the truck was kind of around it, and it did not crush it. They got very lucky," Lowery said.
As San Diego Fire-Rescue Department (SDFD) crews worked to help the people in the wreck, Lowery said a tow truck was called in to actually lift the big rig off the small car.
The driver of the car was able to get out on her own, but the passenger was pinned inside. About an hour later, firefighters were able to pull the passenger out. She was grateful, hugging and thanking firefighters.
Lowery said the women in the car suffered only minor injuries and were taken to the hospital for evaluation. The driver of the semi-truck was not hurt.
CHP officials issued a traffic alert on northbound I-805 at Murray Ridge following the crash, saying the big rig was blocking the two left lanes. Traffic was at single-digit speeds, backed up from Interstate 8, CHP officials said.
Lowery said the traffic alert would remain in place for at least another hour.