Hurricane Eugene is generating unusually high surf that is going to arrive along San Diego's coastline this week, NBC Meteorologist Jodi Kodesh said Monday.
The hurricane is located several hundred miles southwest of the southern tip of the Baja California peninsula, according to the National Hurricane Center.
The once-Category 3 storm is diminishing but waves associated with it will hit the Southern California coast Monday night and peak Tuesday night, National Weather Service forecasters said.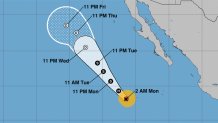 Here in San Diego, there could be abnormally high surf with waves as high as 10 feet for three days through Wednesday, Kodesh said.
"Eugene is a major hurricane down south of us," Kodesh said. "You're going to see our surf build today a little and then tomorrow and Wednesday."
Strong rip currents will continue off the San Diego County coastline today and surf as high as 10 feet could impact some North County beaches in the coming days.
A high surf advisory, which also warns of potentially dangerous currents, will extend from 6 a.m. Tuesday to 10 p.m. Wednesday.
The surf is expected to rise from 4 to 6 feet with sets to 7 feet today to 5 to 8 feet with isolated sets to 10 feet Tuesday and Wednesday, according to the weather service. The highest surf is expected along south-facing beaches north of Carlsbad.
Kodesh suggests anyone heading to the beach this week stay near lifeguard towers.