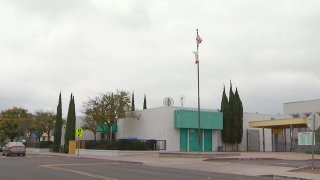 At a parent's request and basing its decision on the amount of time that has elapsed since the publication of the original article, NBC 7 has redacted the family name of one of the victims -- Ed.
A San Diego mother who claims her son's school ignored her concerns about repeated bullying and bathroom attacks was shocked to learn another family claims their kindergartner was victimized in the same way.
[Name redacted] said it's still difficult to talk about what happened to her son while he was a student at Hamilton Elementary School.
What started as verbal threats eventually led to the 5-year-old boy being stripped of his pants and underpants and left crying in a bathroom stall, his mother said.
[Name redacted] filed a lawsuit in April against the San Diego Unified School District, Hamilton Elementary and its principal claiming her attempts to stop the bullying were ignored by school officials.
At first, a classmate threatened to punch her son in the school's bathroom. Her son managed to make a break for it and run back to class. [Name redacted] called and alerted her son's teacher to the incident.
In the second incident, her son was entering a stall when the same student ordered the boy to place his head on the toilet seat. Her son refused and managed to get free, [Name redacted] said. 
Then, after her son told her that children cornered him in the bathroom and forced him to remove his pants and underwear, [Name redacted] set up an appointment with the teacher and the principal. 
"There was no sympathy or any type or remorse," she said, describing the administrators' reaction as nonchalant.
[Name redacted] felt the school officials even attempted to place the blame on her and her son.
"That was even worse. There was no acceptance of fault or anything. It was just a denial," she said.
After the meeting, she contacted school police and requested the officer take a report.
She was told they would look into it but they would be unable to let her know what would come from the investigation.
"I received no notification, no letter, no phone call, email, anything stating there was any type of investigation or it had been taken care of," she said.
"It's not okay. They need to be held accountable," she said.
The allegations are similar to those NBC 7 first reported last week involving a father who filed a lawsuit claiming his daughter was molested by a girl in the school's restroom seven months ago.
That father, who asked to be identified only as Pablo, said his daughter and her attacker were both in kindergarten when the molestation occurred.
"Knowing my little daughter was in the bathroom and would see the feet of someone else coming in and her throwing herself to the floor and low-crawling in the stall to try to get out because this other little girl would actually rub her private parts on her, and touch her, and hurt her – it's hard," said Pablo.
In both situations, the parents say they informed Hamilton school officials about the behavior but that the behavior continued.
"It shows a pattern of an unwillingness to investigate and do what's right," said attorney Dan Gilleon. "It seems like they're not doing a very good job of following the rules, using their common sense and doing their job which is to supervise these kids."
Gilleon is representing [Name redacted] in a lawsuit against the district.
"These were kids who were targeting him, scaring him and humiliating him in the bathroom," Gilleon said.
[Name redacted]'s son is now home-schooled and in therapy. He is dealing with anxiety and having trouble sleeping.
She feels guilty about sending her son every day to a school where he was tormented by classmates.
"Maybe if they had done something in my situation, this could've prevented the second one from happening with the other student," she said referring to the incident involving Pablo's daughter.
NBC 7 has learned of a third family that claims their kindergarten student was also victimized in the school's bathroom.
The girl was removed from school in the spring of last year after a boy in the same grade repeatedly tried to force the girl to pull her pants down, according to her mother.
The parents consulted a pediatrician and a therapist who suggested the child return to the elementary school in the fall because she needed the social interaction.
Now, the parent told NBC 7 that she and her husband have pulled their daughter out of the school a second time because they've been unable to get school officials to address the alleged assaults.
The school district says it can't comment on pending litigation, though it did reject the two claims.
Last week the current principal of the school, who is not the principal named in the lawsuit, sent a letter home to parents assuring them their children were safe.
The district has not given NBC 7 any other information about the incidents or precautions being taken now to protect current students.
Normal Curiosity or Abnormal Behavior?
According to Carmel Valley psychologist Eve Dreyfus, MD, children will copy behavior they witness either by family members or people around them. They can also learn from watching TV.
"They would copy the behavior of whatever is around them," Drefyus told NBC 7.
"It's not okay to expose your children to sex acts, sexuality, sexual innuendos," she said.
"If a child is exposed to that kind of behavior, yes it would be normal for them to re-enact," she added.
She said there is also the possibility that the children in such a scenario may be suffering from PTSD.
"A person will try and provoke other children to do that to them," she said. "That is completely normal behavior for a child suffering from PTSD."