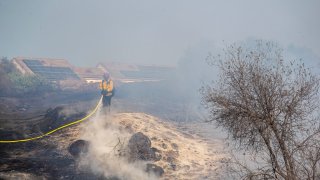 Fire crews stopped the forward spread of a vegetation fire that prompted evacuations as it scorched about 25 acres on Marine Corps Base Camp Pendleton on Wednesday.
The fire first sparked at about 12:15 p.m. on the west side of De Luz Road, officials said. The fire was quickly moving east and threatening structures, prompting the evacuation of schools, businesses and hundreds of homes in the De Luz Housing area on base.
Residents were sheltered at Paige Field House Fitness Center, where Marine Corps Community Service employees provided water, shelter and help accounting for evacuees. Shelter was provided for animals by the Camp Pendleton Animal Shelter, officials said.
The U.S. Marine Corps said one of their gunnery sergeants is credited with using a city bus to bring children and residents to safety. The USMC did not name the Marine.
About 75 children, students of the Child Development Center at Mary Fay Elementary School, were evacuated from the area within an hour, thanks to this gunnery sergeant with the help of police and fire personnel and NCIS agents, Camp Pendleton officials said.
Evacuees were allowed to return home by about 3 p.m., though firefighters remained to mop up and monitor any hotspots through the night.
Photos: Camp Pendleton Brush Fire Forces Hundreds of Homes, Students to Evacuate
The fire was contained within three hours, officials said, and there was minimal damage caused to the base. One home suffered some damage to the roof and an electrical transformer was damaged.
"All parties working in unison, knowing what needed to be done and ensuring it happened lead to the success experienced battling this fire," Camp Pendelton officials said.
There were no known injuries.
The Camp Pendleton Fire District handled the blaze with assistance from Cal Fire.
No details were released on how many acres the vegetation fire burned.