In true San Diego spirit, the annual San Diego County Fair this year will embrace the great outdoors with its theme of "Get Out There."
The fair's roots date back to 1880 when farmers flocked together for competitions, idea sharing and food. By 1936, the fair took root at the Del Mar Fairgrounds, where it resides today. What began as an agricultural fair, now boasts headlining artists, sparkling rides and indulgent food.
It's only the second time the fair has returned since the coronavirus pandemic shuttered the annual event. This year, your well-known favorites – twisting rides and everything fried – will return on June 7 to the Del Mar Fairgrounds on North County San Diego.
Here's everything you need to know to enjoy it all, stress-free.
When is the fair open?
The fair is open from 11 a.m. to 10 p.m. every day from June 7 to July 4 except Mondays and Tuesdays in June.
Where do I park?
There are four designated parking spaces for fairgoers. The first is on the Del Mar Fairgrounds. These general parking spots cost $20. The second is preferred parking on the fairgrounds which costs $50. Fairgoers can also park at the Del Mar Horse Park, which is two miles from the fairground, for $10.
After parking, guests can hop on a free shuttle to the park entrance. For the most affordable option, guests can park at Torrey Pines High School for free and take a shuttle into the park. All parking lots open at 10 a.m. and close an hour after the fair closes.
How much does it cost to go to the San Diego County Fair?
Although ticket prices may range for specific dates, admission is generally:
Adults (ages 13 and up)
Wednesday and Thursdays: $15
Friday, Saturday and Sunday: $20
Seniors (ages 62 and up)
Wednesday and Thursday: $12
Friday, Saturday and Sunday: $17
Kids (ages 6-12)
Weekdays: $12
Friday: Free!
Weekends: $17
Kids 5 and under are always free.
The San Diego County Fair also offers special packages that include ride tickets, food and drink and other perks when purchased together. The fair also partners with some grocery stores and other locations to sell tickets at discounted rates. For more information, check here.
How do I play games and go on rides at the San Diego County Fair?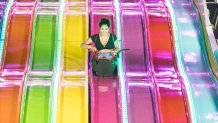 There are over 60 rides and games to enjoy at the fair. In order to hop on a ride or play a game, you must purchase a BlastPass. A BlastPass is loaded with credits that can be applied at rides and games. Tickets for the pony rides and the slingshot must be purchased separately. Keep in mind that the entire park is cashless.
Each game or ride requires a range of 3-9 credits. Credits cost $1.25 each.
You can access unlimited rides on Wednesdays and Thursday from 11 a.m. to 8 p.m. anytime in June with the Pepsi "pay-one-price ride days" for $45.
What artists are playing at the San Diego County Fair this year?
Concerts will take place on the Corona Grandstand Stage as a part of the Toyota Summer Concert Series. A ticket to a concert also serves as your admission into the park for that day. Here is a full list of artists playing.
Train June 7
Kevin Hart June 9
La Adictiva June 11
Carly Pearce June 14
Lynyrd Skynyrd June 17
Grupo Bronco June 18
Boyz II Men June 22
Stephen Marley With Hirie June 24
Los Tigres Del Norte June 25
Nelly June 28
Elle King and Randy Houser June 29
Alabama July 1
Switchfoot July 3
No artist, but there will be Fireworks July 4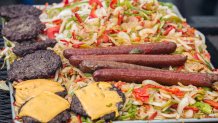 What other events are going on at the Del Mar Fairgrounds?
Besides the food, rides and concerts, there are many other events and entertainment opportunities to check out at the fair.
Attend the opening ceremony on June 7 at 10:45 a.m. The ceremony will feature the Hilltop High School Emerald Effect band and Color Guard.
Head to the Chevrolet Livestock Barns for livestock shows.
Buy your ticket ($55) to visit the "Toast of the Coast" wine festival or your ticket ($70) to the "International Beer Festival."
Celebrate pride at the fair at the "Out at the Fair" LGBTQ+ community celebration on June 10.
Enjoy dancing, martial arts and more at the Asian and Pacific Islander Festival on June 17.
Sing your heart out with Myron Butler and other gospel groups at the Gospel Festival on June 24.
Watch a pig chase an Oreo at the Swifty Swine Racing Pigs race.
See a team of acrobats defy gravity at the Flying Royals trapeze show.
There are many other opportunities for fun. Check out the San Diego County Fair website for more information.